ATLANTA, GEORGIA—To bring cheers, joy, and inspiration to the participants, the organizer of the widely popular soccer fundraiser 2021 Father Christmas Cup will auction a signed Chelsea jersey on December 11 at the Atlanta Silverbacks Park.
The Chelsea jersey is considered a collector's item if you are a big fan of the famous European soccer club.
Chelsea Football Club is founded in 1906 and is currently based in Fulham, West London.
Chelsea is among England's most successful clubs, having won over thirty competitive honors, including six league titles and eight European trophies.
If you wish to own this sought-after soccer jersey please join the 2021 Father Christmas Cup now.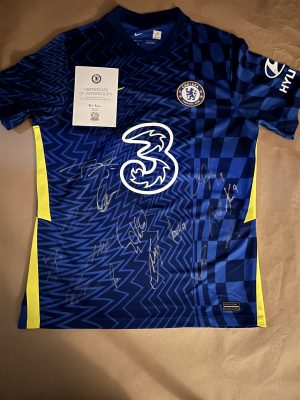 Like in previous soccer for a cause event, this year's tournament will be a whole-day affair from eight in the morning until five in the afternoon.
Two of the much-awaited events of this year's tournament are the youth and adult games.
Also, two of the highlights of this year's tournament are the presence of the beneficiary families and the gathering of all attendees for memorials of some of the soccer-loving souls in our community.
It was learned that one of the principal sponsors of this tournament the Atlanta United Foundation will not be fielding any team in the youth and adult tournaments.
The funds in the tournament are raised from donations made by sponsors, donations from participating players, the sale of raffle tickets, etc.
The annual event is organized by the Father Christmas Cup, Inc., a non-profit which benefits families that recently lost a parent.
The event is an annual soccer tournament fundraiser consisting of local soccer players, youth, and adults, many of whom have ties to the beneficiary families.
History and Origin of The Father Christmas Cup
The Father Christmas Cup came to be as a result of a discussion one night in September 2003 between a group of friends in a local pub, what was then the old Fado Fado, in the Buckhead bar district of Atlanta Georgia.
The discussion centered on the casualties from the war in Iraq and how that Christmas a family would be in mourning for a father missing for the first time during the Holiday season.
One of the groups recalled how soccer and war had been intertwined throughout the ages and we all remembered how during World War I, it was often cited that on Christmas Eve in 1915 a truce was struck between the Germans and the English to celebrate Christmas. The truce lasted Christmas Day and part of the following day- Boxing Day- and how an impromptu soccer game ensued in no-man's land between the trenches.
The idea came about to hold a soccer match as a fundraiser to help a family that was missing their father for the first time. The first Father Christmas Cup has played in December 2003 and funds raised were donated anonymously to a soldier's family.