Come see Atlanta United vs Orlando City and the next professional soccer team in Atlanta…. Atlanta Rovers FC as they take on Potros Futbol Club on April 17 at the Silverbacks Park next to Spaghetti Junction off I-285. Sponsored by the Granite Countertop Warehouse Come watch the stars of tomorrow, today as the Atlanta Rovers Celebrate 25 years of existence.
The Party starts at 2pm and the game starts at 4pm.
How much does it cost? FREE…that's right…FREE
There will be music and games with raffles through the day in a family friendly atmosphere. The will be an art exhibit by environmental artist Mitch Cherry and Hannah Testa bringing awareness of Plastics in the Ocean through Soccer and Surfing.
For more information visit AtlantaSoccer.News for more information…or call (678) 829-4381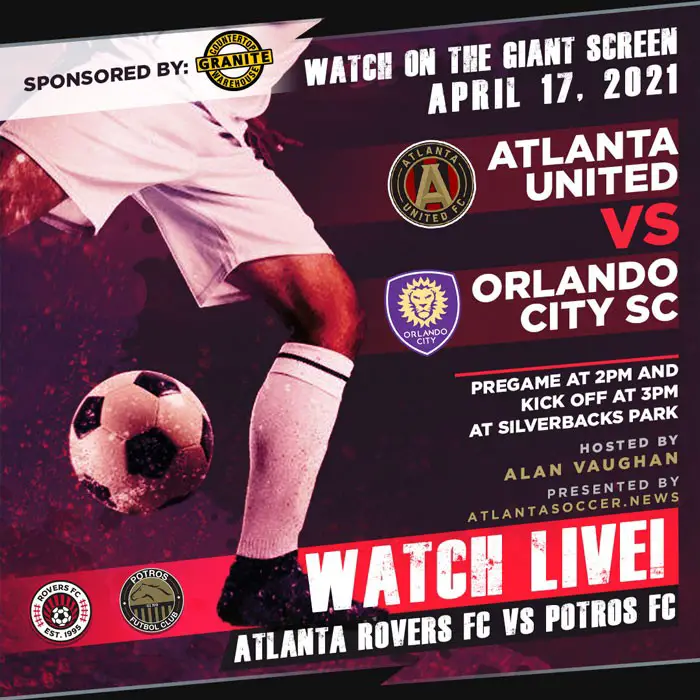 Granite Countertop Warehouse
Granite Countertop Warehouse [GCW], headquartered in Acworth, Georgia, is a granite company with over 20 years of experience in the natural stone industry. GCW is a leading fabricator and installer of countertops and stone products in the Southeast and has the experience, dependability, and knowledge to give you the best results.
Los Arcos Marietta Mexican Restaurant
Whether you wish to catch up with friends over some margaritas, or celebrate family time with our delicious Mexican cuisine, the Los Arco Marietta family will surely make you feel at home! Our wonderful dishes are inspired by traditional Mexican home cooking and Latin flavors, which we make using only top quality produce and ingredients. Our location on Roswell Road is easily accessible and serves Marietta in Cobb County.
Adult 7v7 Leagues | Field Rentals | Events
Silverbacks Park: Adult 7v7 Leagues, Field Rentals, Events
Silverbacks Park hosts Atlanta's most competitive and fun adult 7v7 leagues. Silverbacks Park also offers field rentals for all athletic and social events! Plus, they are home to Willie B's Bar and Grille. A full service bar and restaurant with a panoramic view of the stadium field.
Follow us on Instagram! @atlanta_silverbacks_park
HOVE International has been helping growers in North America for over 35+ years, in commercial horticulture and cannabis production.
Our consultative approach ensures that every design/layout, whether it is a modest size operation or an advanced automated one, is designed for future expansion and cost efficiencies.
Georgia's first kombucha tea company has arrived. Meet Golda. A fermented beverage derived from a family recipe. Kombucha is a probiotic drink known for aiding digestion and increasing immune support, while energizing the body and mind. Golda Kombucha is local, healthy, and refreshing.
The recipe for Golda Kombucha tea comes from a vivacious 98 year-old named Golda. A living testament to wellness, Golda has been brewing and drinking her own kombucha for more than 40 years at her home in the Blue Ridge Mountains. Now her family recipe, unchanged through the generations, has been passed down to her granddaughter: the brewmaster behind Golda Kombucha.
Wicked Weed was imagined, created, and brought to life by the Dickinsons and the Guthys; two families that have been lifelong friends, each bringing a unique skill to the collective ownership team.
Upon opening their original brewpub location in 2012, Wicked Weed was known for pushing the envelope in craft by offering 25 unique draft beers including West Coast style IPAs, barrel-aged sour ales, and more.
Chihuahua Cerveza is brewed in celebration of the convergence of two great cultures. "Chihuahua" means, "The place where the waters of the rivers meet."
We believe this represents Mexican and American cultures coming together through millions of our shared lives. We work every day to support and celebrate the innovators and trendsetters that are shaping contemporary Mexican American Culture.
Meet Alan Vaughan of The Big Chicken Beatles Band in Marietta
Today we'd like to introduce you to Alan Vaughan.
So, before we jump into specific questions about the business, why don't you give us some details about you and your story.
I have sung and played music all my life, in England and the US, and have led several bands. When I arrived in Marietta from England in 2000, I was charmed and somewhat fascinated by the local legend that is "The Big Chicken". I had decided to create a band that plays Beatles music exclusively and was looking for a name. When I read that there was a men's chorus called The Big Chicken Chorus, I thought, why not a Big Chicken Beatles Band! It is certainly memorable, includes a well-known landmark that is a little odd and a little unique, and of course, The Beatles in the name guarantees its own fame. I love that it makes people smile, and the logo opportunities are fun as well.
We worked hard on the Beatles material and have become known as rather good and faithful reproducers of some of the finest music ever written and recorded. We always keep a fun element in our performances while being very professional. After all, it was the Beatles own irreverent charm that endeared them to the world as much as their outstanding music.
Great, so let's dig a little deeper into the story – has it been an easy path overall and if not, what were the challenges you've had to overcome?
One of the most-often asked questions we get is whether we are afraid of either The Beatles or KFC suing us. The answer is absolutely not! I certainly would welcome either, as that kind of publicity could definitely raise our profile! Apart from that, it's clear that the term "Big Chicken" is a locally-created one and not a brand name. It is in the public domain. The Big Chicken itself (that is, the manager) has been very supportive and open to publicity events – although so far, city red tape and fees seem to complicate that idea.
The only other real challenges are the same ones that any band faces – getting the right personnel, rehearsing, booking gigs, promotion, etc. The band has undergone several personnel changes, but always it's talented musicians who love Beatles music!
Please tell us about The Big Chicken Beatles Band.
Our business is quite straight-forward: we play Beatles music. We aren't a bar band, we play public and corporate events. These have included the Queen's Birthday at the British Consul's residence, British Car Fayre, Coca-Cola international Asian Business convention and New Years Eve concert at the Earl Smith Strand Theatre in Marietta Square two years in a row, among many others.
We have built a reputation as a quality Beatles band that provides fun entertainment for diverse audiences, and we strive to maintain that standard!
Do you look back particularly fondly on any memories from childhood?
I have so many. In context with the BCBB, I shall always remember having been one of an elite few who was present at The Beatles very last public performance. That was on the rooftop of the Apple building in London, in January 1969.
My mum, my sister and I were on our way to the orthodontist (of all places) and emerged into the street below as they were performing Don't Let Me Down. The experience was of a muddy-sounding song bouncing around between buildings, and everyone looking up. We also looked up… but there was nothing to see of course. They were on top of the building, and out of sight of those down below. My mum was a little nervous about it all and hurried us along and on to the appointment. 🙂
Mitch Cherry displays Panorama Ray's Art
ATLANTA, Georgia-March 4, 2021-Environmental artist Mitch Cherry, a long-time member of the Atlanta soccer community and Atlanta Rovers, displays Panorama Ray's artwork at the "I saw you hanging on Carroll Street" show at the Carroll Street Cafe in Cabbagetown, Atlanta.
Ray "Panorama" Herbert, photographer and painter, is considered to this day as one of the iconic artists from the city of Atlanta. Born and raised in Atlantic City, NJ, Herbert was influential in changing Atlanta art and photography. Utilizing 1904 Kodak Cirkut cameras and over-sized contact prints, his unique style earned him his famous nickname, "Panorama Ray".
Herbert started his career with simple, quick, and easy artwork. His early works consisted of quick-print tourist shots on the Atlantic City Pier. Eventually, Herbert realized that his talent and passion allowed him to expand this business further. He set up his professional photography and studio, and from there, his career took off. After setting up his studio, Herbert would use his talents and skills in a corporate context. He would become a professional photographer for corporate congregations, but Herbert saw an enormous potential for his photography career. He realized that his antique camera and natural knack for beauty had more significant potential for his career than he was doing. With a change of vision, Panorama Ray focused his lenses elsewhere. He made it a mission to document the changing landscape in Atlanta until his unfortunate death in 1997.
Those who are aware of Ray Herbert's legacy know that he was heavily involved with the Atlanta community, if not the most active artist. His photography studio and the paintings he created during his career became monumental for the city's history. He captured ordinary folks' beauty and essence through his 500ft—rolls of ten-inch film and a simple canvas and paint. Fans of Panorama Ray remembered his career for his dazzling photos and eye-catching paintings. Still, ordinary folks reflect on his legacy for his kind, down-to-earth, and generous personality. Panorama Ray's legacy inspired a new generation of Atlanta artists to follow in his footsteps and emulate his success, such as Mitch Cherry.
Mitch Cherry, Environmental artist and Bus Stop Art Studio founder, was known for bringing up-and-coming artists and sharing their talent with the community. Mitch and the studio produced hundreds of events in multiple years, and the studio became an inspiration for the creation of MTV's Real World. Mitch art directed many photos for Ray at the Bus Stop…some with his band Spaceseed, Green Arrow and DJ So Fly. Mitch was always ready to create an interesting backdrop for his photography or be an actor in his moving stills.
 Apart from arts and music, Mitch has also been heavily involved with the Atlanta sports scene. One of his passions is soccer. Mitch played competitive soccer in college at Dekalb Central and played with Imperial Pint FC and Atlanta Rovers clubs. Mitch's involvement with the Atlanta community in all aspects of art is truly remarkable. It only fits that he was tasked to present "Panorama Ray's" painting.
To commemorate the great artist's legacy, Mitch Cherry is showcasing "Panorama Ray" Herbert's artwork at the "I saw you hanging on Carroll Street" show at the Carroll Street Cafe in Cabbagetown, Atlanta where he will display pieces from his personal collection. Proceeds from the event will go to the Christian Appalachian Project. A touching tribute to a one-of-a-kind artist and man. The closing party event is Tuesday, March 30 from 7-10pm.
The Next Panorama Ray show will be June 12 with Harry Underwood and Ab the Flagman in Inman Park at the WADDI
Hannah Testa: Beyond the Beautiful Game
In a society where athletes are considered popular figures and role models for success, athletes hold a significant platform. Athletes are not just a model for excellence in their respective sports, but they serve as a model for change, for speaking out, and for being the voice for the voiceless. Various athletes have used their platform to voice out their opinions on social issues, spreading the advocacy they preach; few examples of these include LeBron James, Kevin Durant, Colin Kaepernick. Stephen Jackson, among others. The same can be said for Atlanta and UFA's very own Hannah Testa. While she may not be in the same stature of fame as the aforementioned list of people, the 17-year old's passion and drive to make a change in the world is as bright and strong as ever.
As mentioned, Hannah used to play for the United Football Academy. Her time in the team was very successful. They won the title and she learned the importance of cohesion as a unit and the importance of hard work. In her own words, she admits that they were not the best team or the most talented, but she believed that their team worked the hardest. Shortly after her time in UFA, she moved on to pursue her life in volunteerism and creating advocacy. The lessons she learned in the sport shaped her to become the person driven with passion and to work hard on making a change. 
From an early age, Hannah has always advocated for animal life and the environment. At the age of 4, she expressed her love for animal life and educated herself on the issues concerning their health, primarily plastic pollution. This began her journey to creating advocacy in order to educate various industries and spread awareness on the issues that harm our animals. At age 10, she became an environmentalist and an animal rights activist. She recognized that plastic pollution is one of the biggest threats to our environment, and since then, she started to spread information about it to the public. With this, she launched Hannah4Change, an initiative she launched to spread her advocacy through the web. Hannah has worked with multiple government agencies in the state of Georgia, and she has proposed bills and loans to defend the rights of rhinos whose horns are used for the ivory trade. After receiving multiple awards for her efforts, Hannah released her book "Taking on the Plastic Crisis", a book dedicated to going more in-depth with her journey.
In her book, she dives deeper into the personal experiences that drove her to make a change. The book talks about the experiences she went through as early as the age of 2 all the way to when she helped in creating Plastic Pollution Awareness Day in the state of Georgia at the age of 14.  The book not only talks about her challenge and her journey in life but also how to be aware, how to make a change in your own everyday lives to support her cause infighting and eradicating plastic pollution. One of the stories of her book was when she was 10, she mentions that her mother showed her a video of a rhino being poached and killed, and the anger she felt watching the video. Her mother told her something across the lines of, "It's sad. But what can we do?", and ever since then it has been Hannah's challenge to be more, to do more. This story truly encapsulates the excellence and the brilliance of this young girl. While we can go on and rave on her excellence, the world should see for themselves. Be sure to check out Hannah4Change, and to grab a copy of her book. It is a great read and it is a terrific narrative about courage, integrity, and initiative. 
Hannah Testa's story is a symbol that age is truly just a number and that anybody is capable of making a difference for as long as they put their heart and soul into it. Although she no longer has the time to pursue playing soccer, the sport that so many love; the passion, the drive, the hard work, the determination to be excellent is what the beautiful game is all about. Hannah at 17 is a role model and a symbol for what the youth is capable of, and for any young boys and girls out there that believe that they can't succeed or can't make a difference, let Hannah's story be the symbol that anything is possible for as long as hard work and heart are there. Hannah, continue to strive, continue to be great, continue to change the world, we are all in awe and rooting for what the future holds!