ATLANTA, GEORGIA—As our community gears up for the 2021 Father Christmas Cup on December 11, 2021, at the Atlanta Silverbacks Park, let's pause, take a look back, and thanked all those people who made the 2020 Father Christmas Cup a huge success last year at Roswell Parks and Recreation on December 11, 2020.
Last year's edition of the Father Christmas Cup is the fourth since this widely popular soccer event was started.
One important part of the success of last year's event is the generosity of the sponsors such as the FC Georgia United.
With a collective effort of the participants, the event was able to raise $6,000 from the satellite event.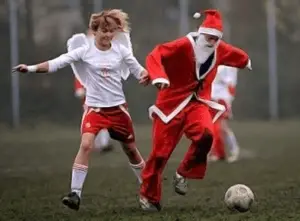 "A shout-out and a huge thanks to the following people for making the fundraiser such a success, Chris Scott the Coffee Guy! Awesome brew, CJ Mello for homemade muffins – delicious, Saito for the Japanese breakfast touch – scrumptious, and Edwin Hoenderdos for the bottled water, Alan Vaughan for the sound system, festive music, and the memorial evocation – you rock!"
"Moreover, the event will also not be successful without the huge support from our volunteers Cindy, Marian, and our security and fire and safety chief – Chris Sobieski – you the team, these folks help set the fields and clear up."
"Also a big thanks to Aly Wade and Roswell Parks and Recreation for allowing us to use the great facilities last year."  -Father Christmas