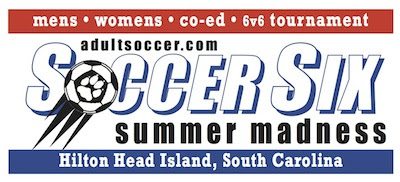 SOCCER SIX TOURNAMENT SERIES
SUMMER MADNESS XX
IS YOUR TEAM READY FOR THE MADNESS ?
Celebrate 20 years of Soccer Six Summer Madness June 21-22 on Hilton Head Island.
Soccer Six Summer Madness XX is open to all teams in 10 adult divisions including: Men's A, B, 30+, 40+, 50+ Women's A, B, and Co-ed A, B & Rec.
Teams competing in Summer Madness will be guaranteed a minimum of 3 games. First round matches will be played on Saturday. The playoffs and finals to be held on Sunday.
Optional matches may be available for Friday night – call tournament headquaters for details.
SUMMER MADNESS is one of the premier adult soccer tournaments in the country, more than 40 teams from across the United States are expected to participate in tournament.
Space is limited – Register your team prior to 5/31 and save $25.
Soccer Six Tournaments are fun and exciting they include discount accommodations, three-game guarantee, playoffs and a players' party.
The adult 6v6 tournaments are open to all mens, womens and co-ed soccer teams.
UPCOMING SOCCER SIX EVENTS
6/21-22 – Summer Madness – Hilton Head, SC
12/6-7 – Winter Nationals – TBA
REGISTER YOUR TEAM TODAY !
The Soccer Six Tournament Series is produced by Bear Foot Sports, organizing professionally managed soccer tournaments for over 20 years.
For additional information please call 843/757-8520 or visit us on line athttp://www.bearfootsports.com/soccer.htm
Pre registration and multiple team discounts are available.