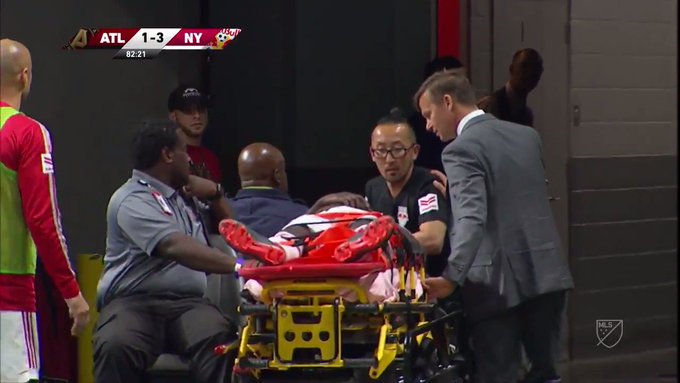 Bradley Wright-Phillips hit a brace after halftime to lift the New York Red Bulls to a 3-1 victory over Atlanta United on Sunday evening, a result marred by injuries to the Red Bulls' Kemar Lawrenceand Tyler Adams.
After drawing a penalty to help his side pull even late in the first half, Wright-Phillips twice sent headers past Atlanta's Brad Guzan in the space of four minutes to push the Red Bulls to a fifth-straight league victory.
Those goals pulled Wright-Phillips even with Josef Martinez and Gyasi Zardes for the league lead with eight goals. Earlier, Martinez had a goal disallowed for a foul following a video review.
Atlanta's comeback task grew even tougher after Greg Garza was sent off in the 71st minute for a violent challenge. But the final stages of the Red Bulls' victory — including 12 minutes of stoppage time — were subdued after Lawrence suffered an injury after an awkward fall.
We're all with you, @kemarkemar24. pic.twitter.com/Cp92ElRCjy

— New York Red Bulls (@NewYorkRedBulls) May 21, 2018
The Jamaican outside back left the field on stretcher with his head and neck immobilized, but appeared to be moving his upper extremities.
In the same sequence, an emotional-looking Adams departed the match while showing signs of a right knee injury.
Goals
Three Things,
THE BIG PICTURE: The Red Bulls' victory could certainly be classified as a statement win, but at what cost? Lawrence and Adams are both key parts of coach Jesse Marsch's approach, and an extended absence for either would test his side's depth. Meanwhile, Atlanta have lost consecutive home MLS matches for the first time in club history.
MOMENT OF THE MATCH: Atlanta looked to be well on their way to an easy three points when Martinez appeared to make it 2-0 in the 31st minute. However, referee Chris Penso waived the goal off for a foul on Martinez following Video Review.
MAN OF THE MATCH: While the attacking talent level around the league increases, Wright-Phillips just keeps producing. Sunday's brace marks his second multi-goal performance in 10 games this season, and his 20th in MLS since he entered the league in 2013.