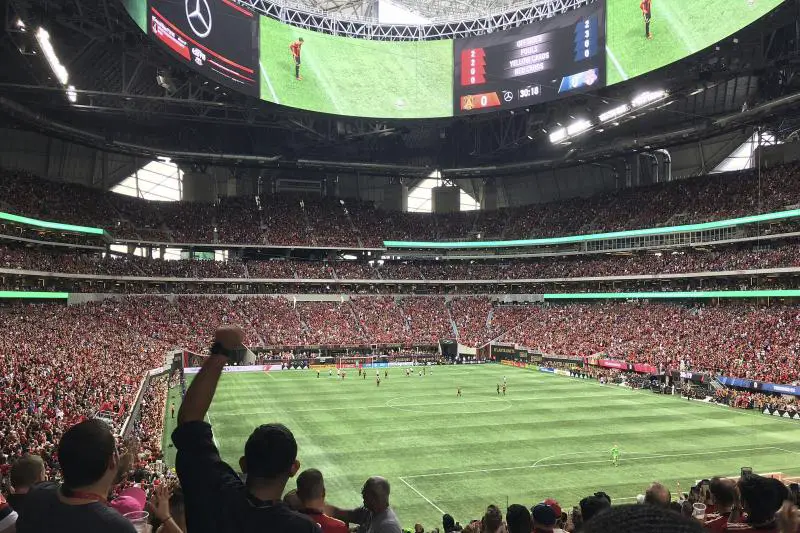 On Thursday, October 26, 2017, at around 4:30 PM, Chris Lopez was at a railroad-adjacent parking lot, known as The Gulch. He was holding his season tickets for the Atlanta United, realizing that they had just finished their first season. He was surrounded by his friends at the brand-new Mercedes Benz Stadium. They were busy helping themselves to various grilled food and consuming adult drinks. They were all saying that their team would win.
Their hopes fell when Atlanta lost against Columbus in the elimination game.  Atlanta was unable to score during overtime play and went to Penalty Kicks. Although the team lost, the fans were constantly making noise and cheering their team on.
Corey, a 30-yr old Mercedes-Benz stadium security employee, said that the energy in MLS is more intense than at Falcon games. Fans of the Atlanta United were already catching the attention of the media as reported in headlines across the country. It was in April 2014 when the expansion team was first announced and then just a little over a year later, the team sold out 29,000 season tickets!
In the team's debut season, Atlanta United was able to make a new single-game MLS attendance record not once, but twice. First was for a single-game and the second was for a postseason MLS attendance with a total of 67,221 fans.
Atlanta's Curtis Jenkins, 38, is a fire marshal and a co-founder of the fan group Footie Mob, recalls and shares his experience as a kid. "As a kid, there was no soccer around me—no rec leagues, no anything. I remember in '96 when they were launching MLS. It was like, 'OK, Atlanta's gotta be on the list, right? We just had the Olympics!"
When the Atlanta United announcement was made, Jenkins suddenly came up with an idea. He helped form an organization called "Footie Mob", which he named after the Atlanta rap group Goodie Mob.  Presently, Footie Mob is one of the four primary recognized Atlanta United supporter groups which have nearly 800 members.
Jenkins expressed how much he's surprised by the number of Atlanta United fans who became members of the supporter group he founded. "That surprised the f–k out of me—anybody who tells you they aren't surprised by the fans is lying," Jenkins says. "By the fourth tailgate, we realized: This isn't going anywhere. And it just kind of blew up from there."
Jenkins named the group because he wants to connect Goodie Mob to its new team. Footie Mob would also chant phrases or melodies from OutKast, Ghost Town DJs, and Childish Gambino.  Jenkins' motive was to also promote Atlanta's culture to the team's fans. While hip-hop is embracing the team, the Atlanta United fans are learning to love the music as well.
OutKast's Big Boi was unable to see a game because he was busy promoting his latest album Boomiverse. Despite his busy schedule, he still found time to record a few in-game promos for his local team like "Stand Up!" and "Make some noise!" He shares his admiration for the Atlanta United team. "Man, it's dope to add another professional sports team—and they're good too! It ain't like you got the B-team. You got a real contender. Somebody sent me a video of them playing 'The Way You Move' during the soccer game—you know that s–t will rock anything."
Everyone present in the match is thrilled and awestruck by how the game went. You can see people standing and screaming until the 90 minutes of the game ended. The audience would constantly chant its name, "WE —- ARE —– UNITED!"
Big Boi adds, "The city is growing, expanding—you add the soccer team, that's a whole other element. Just more life and excitement to Atlanta. Big-time cultural diversity."
The diversity is evident among the supporter groups, even though you won't see Los 12 de Atlanta being listed on the team's website. This group can be easily located among the crowd, usually, they're front and center in the supporter's section.  Gabriel, a 29-year-old drummer from Mendoza, Argentina compares the loud Atlanta fans to the wild crowds of his home country.  He and most of the members of Los 12 are motivated to attend the games because of the Atlanta United manager, Tata Martino, who is also from Argentina. As marching supporter groups make their way to the stadium, they would chant, "Vamos, Vamos, A-T-L!"
Despite the loss by Atlanta United this year, one thing is still strongly evident among all their soccer fans and in Atlanta as well. The team influenced Atlanta and its people as seen everywhere in the city. You see Atlanta United wraps on MARTA buses, Atlanta United billboards, and even the Chelsea kilt worn by a random convenience clerk that unitedly and proudly expressed his love for the team.
After the game, defender Michael Parkhurst shared his indescribable feelings to the media, "It's just amazing to play in front of this crowd on a weekly basis. It's just indescribable. We couldn't ask for more from the city of Atlanta than what we've gotten this year."
"Hopefully, they come back next year," concluded by the eight-year veteran Parkhurst as he ends his statement.
To read more about this story, check out GearsOfBiz.