Bill Fleming: resident/activist/folk hero soccer player
Bill is an accomplished pedal steel guitar pro that has been an important part of Atlanta music scene. I first booked him and his band Hair of the Dog at my cajun restaurant called the Cajun Kitchen in downtown Atlanta. His brand of Cajun Blues always rocked the house and kept everybody dancing to the wee hours of the morning. I was very fortunate to have been at some legendary shows.
"Identities based on language, ethnicity, and class [and music] have a very real territory as well as virtual and imagined space," Fleming says. "It all interests me, and I'm lapping it up."
Bill is known for his speed and endurance. It seemed like Bill never got tired. We played together on several teams in Atlanta including Moreland Wanderers, Rovers and others. He was known for having this huge fiery red hair that looked like a shooting flame when he ran down the field. Always good for scoring goals when no one is expecting it. Bill played for Williams College in California, I  El Nacional, In Nicaragua he played for the Matagalpa Segundos. In Atlanta it's been The Majestics, The Moreland Wanderers, Various Rover teams and now Atlanta United.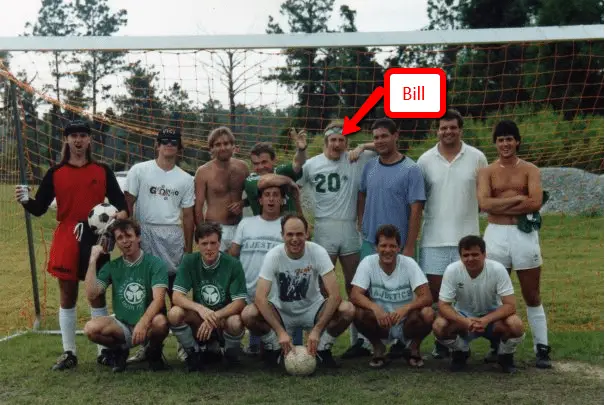 Back in the 90's, Lexi Lalas from the US Mens National team had similar hair. Bill went on for perform in the UK as Lexi Lawless. People loved it! Bill was also known for throwing great parties at his home and these giant yearly parties called the "Boogie".  Bill has certainly added much color and happiness to our soccer community.
Hair of the Dog brings a high energy mix of Cajun, blues, and honky tonk for a fine boogie groove. With fiery fiddling (Barbara Panter-Connah), soulful vocals, blues harp and accordion (Whit Connah), driving guitar (John Ferguson), bass (Chris Tinsley), drums (Doug Landsberg), pedal steel (Bill Fleming), and Cajun triangle ('tit fer) and rubboard (Audrey Ferguson), they have played at festivals and venues around the southeast and beyond, including tours of Europe and the British Isles. Facebook
I also had the privilege of booking Bill with another of his bands called the Expand Band at the Somber Reptile on many occasions. Where their unique brand of Americana made you realize the immense talent of the band. Check out a video of one of their performances.
LIVE PERFORMANCE by THE EXPAND BANDw/ Bobby Don Bloodworth on guitar and vocals, Craig Rafuse guitar and vocals, Bill Fleming pedal steel guitar and vocals and Paula Larke bass, Kim Nimoy tambourine and djembe, Steve baird drums
Bills influence in the music goes way beyond his bands. Check of a list of his credits: