By Martin Rogers, Yahoo! Sports
Chelsea rose from the ashes of what looked like certain Champions League failure Wednesday and did so, appropriately, ironically and undoubtedly, through its colorful gang of dead men walking.
The team that has had hundreds of millions of dollars lavished upon it by billionaire owner Roman Abramovich, yet has floundered through various crises in a seemingly doomed campaign capped by another head coach getting fired last week, somehow came good.
Coach Andre Villas Boas was brought in eight months ago to force out a group of aging stars upon whom Chelsea had become over-reliant. He was shown the door 12 days ago after his method of doing so had caused a near locker-room mutiny, and that appeared to be the final nail in the London club's wounded and surely fruitless season.
More From Martin Rogers
On Wednesday night though, that same old guard, those familiar faces of Frank Lampard, John Terry and Didier Drogba, that trio whose political power at the club was supposedly stronger than their tiring flesh and whose influence was seen as the root of the club's troubles, masterminded a Champions League comeback full of drama and spirit.
Given little chance after a 3-1 first leg defeat at Napoli, Chelsea looked like they needed a miracle. As it was they didn't, the magic recipe was simply an injection of the kind of character, passion and desire that had been so lacking for so long.
Drogba was his usual boisterous self and got things going with a vital early goal, courtesy of a flying header, while Terry, returning from injury and still not 100 percent, was a rock at the back and also provided the second with a fiery header of his own.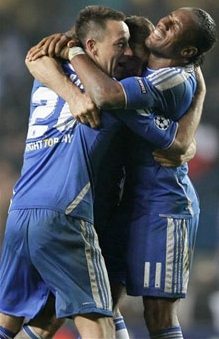 And after Gokhan Inler had scored for Napoli to put the Italian side in command again, it was Lampard who showed nerves of steel with 15 minutes of regulation left by scoring from the penalty spot to tie the aggregate score 4-4. Branislav Ivanovic would go on to get the winner in extra-time to secure Chelsea's quarterfinal spot, but this was truly one for the old-timers.
"This result is absolutely huge for us," said Lampard. "It was important that whatever happened tonight we showed a spirit and desire to stay in the competition. It has been a difficult season, but a performance like that can change things for us so it's very important that we kick on from here."
This night was Chelsea's finest moment of the season and keeps alive Abramovich's hope that something can be salvaged from this wreckage of a season, that sees the side languishing in fifth place in the English Premier League standings.
Yet it also provides a quandary for the Russian, who must now have even less clarity of thought with regard to how to handle his veterans. After all, by cutting Villas Boas loose he let the players win the power struggle, but can he really justify putting all his eggs in the basket of three players whose shelf life may not run much longer?
He may have to.
What Abramovich covets more than anything is this tournament, the Champions League. If Napoli could have held on for 15 more minutes at Stamford Bridge then as far as Abramovich was concerned the season would have died then and there.
Instead, for all its problems and inconsistency and in-fighting and woes in the EPL, Chelsea is still alive and kicking as the last English team left in the competition and is in the last eight for the first time in three years.
Abramovich is a master at apportioning blame to others, as his propensity to sack managers on a yearly basis would suggest, but his best chance of achieving the European glory he so craves will be by admitting he was wrong.
If he wants to have a shot at winning in the short term, either this season or next, then it has to be by putting faith in Lampard, Terry and Drogba for a final effort. The alternative, having already bumped out Villas Boas, is to immediately begin a long and potentially painful rebuilding phase that is unlikely to realize much in the near future.
The old guard simply keep sticking around. Lampard was benched earlier in the campaign but there has been no more effective contributor in English soccer over the past two months. Drogba's time looked to be up when Fernando Torres was bought just over a year ago, but he remains the incumbent starter in attack. And Terry, despite injury and a looming court case on a racism charge, has rediscovered top form.
Abramovich was certain that for Chelsea to move forward it needed to find a way to push the big three out of the door. That was his idea, his blueprint and master plan for the future.
After Wednesday it seems like the future, or at least that version of it, may have to wait for the old guard to take their bow.