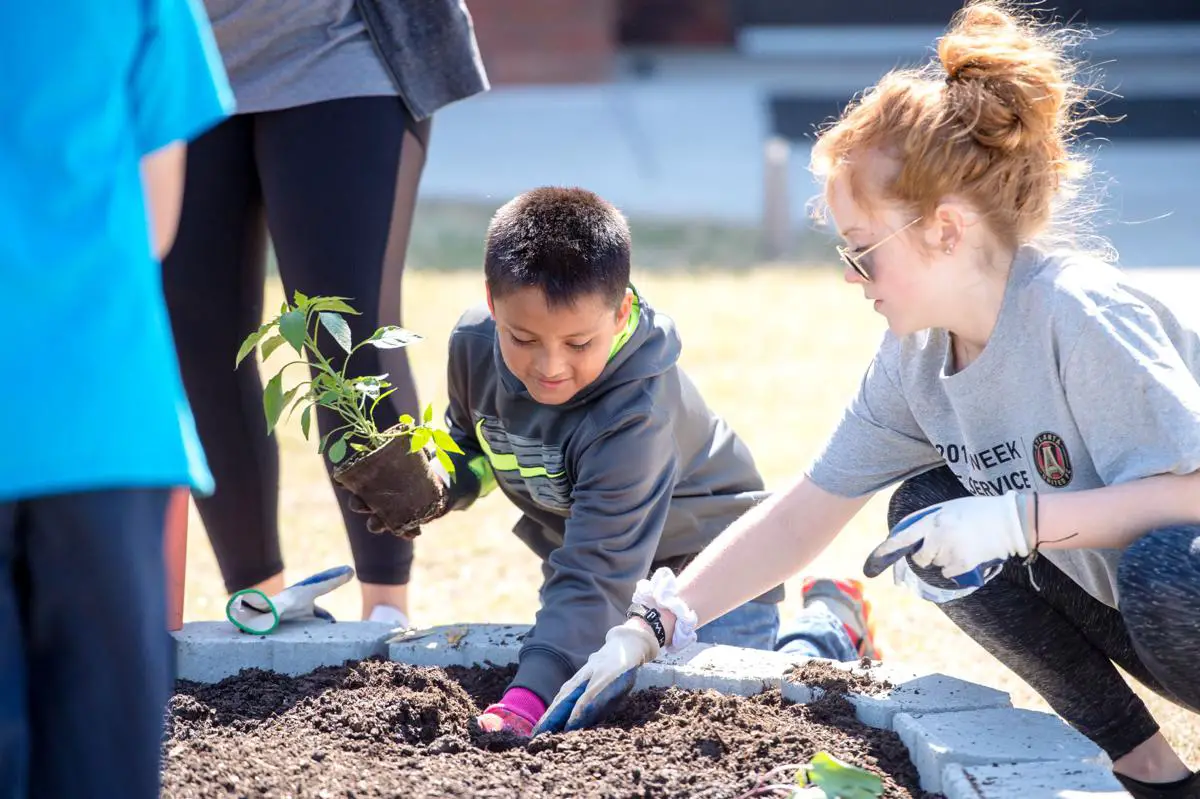 Graves Elementary School students, the Captain Planet Foundation and members of Atlanta United FC spent Thursday afternoon planting vegetables at the school's learning garden.
The planting was part of an initiative by Major League Soccer called Greener Goals, which is a week of service by professional soccer teams leading up to Earth Day.
Atlanta United forward Jon Gallagher and Atlanta United 2 goalkeeper Paul Christensen paid a visit to the Norcross school.
"This is a great opportunity for us to reach out to the local community and give back to some of the students," Gallagher said. "As soccer players, we have time in our day to make an impact on the community."
Gallagher, who grew up in Dundalk, Ireland, spent four years at Notre Dame before being selected with the 14th overall pick in January. He said he has enjoyed the past few months in Atlanta.
"I've been here two months and this area has been great," Gallagher said. "The club has been welcoming, the community has been very supportive. It's been a positive experience."
According to Leesa Carter-Jones, executive director of the Captain Planet Foundation, Graves Elementary School is one of more than 200 metro Atlanta schools that have a project learning garden.
"We have a great relationship with the U.S. Green Building Council of Georgia and when we heard that Atlanta United was interested in doing some sort of event we jumped on it," Carter-Jones said. "It's great for the students to meet some of the rising stars in the sport and learn about the environment as well."
Graves Elementary School Principal Clayborn Knight said the event was huge for the school, which has had the learning gardens for the past two years.
"Soccer is a big thing for our students," Knight said. "To have the opportunity to partner with ATL United is awesome and to be exposed to learning in the garden is a great combination."
This is the first time that Graves Elementary School has had the Captain Planet Foundation come to its campus. However, it plans on using this event to springboard interest in more green initiatives.
Knight said the schoolalready have a group of teachers that are talking about filling some of the unused space outside the school with more gardens. Next year, school officials said they plan to add tower gardens, vertical plant growing systems that take up minimal room and can be placed indoors.
The group planted tomatoes, flowers and an assortment of shrubbery to spruce up the school.
"Having children discover life in the garden is a great experience," Carter-Jones said. "It's a wonderful day when corporate, foundation and sport community are all on board to provide children an opportunity to have a great time."