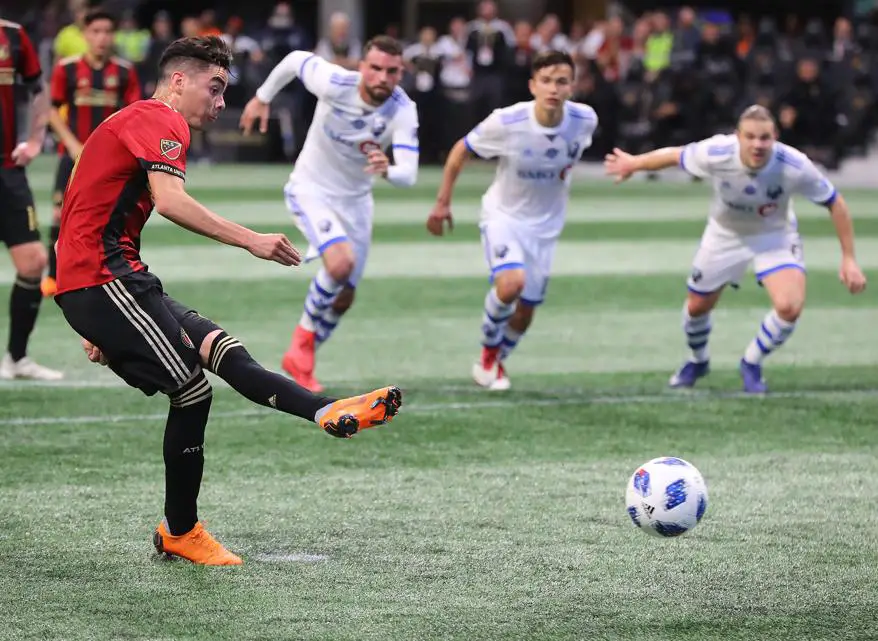 Atlanta United manager Gerardo Martino wasn't sure on Monday if Miguel Almiron will play in  Wednesday's pivotal MLS Eastern Conference game at Columbus. However, he strongly indicated that Almiron will return for the U.S. Open Cup match against Chicago next Wednesday.
Almiron sustained an injury to his left shoulder during the second minute of Saturday's 1-1 draw at NYCFC. Almiron played with the injury during the rest of the half and was subbed out at the start of the second half.
"Luckily, we don't think it's anything serious but because there are four days between games we are going to evaluate the risks and see if we can count on him in the next game," Martino said.
Asked if he is considering resting Almiron until the next league game against Portland on June 24, Martino said he doesn't think he would not play him that long, pointing to the  the U.S. Open Cup game on June 20 against Chicago at Mercedes-Benz Stadium.
"That's a clue," he said.
Almiron is building an MVP season with six goals and six assists in helping the Five Stripes lead MLS in points (30). Columbus is third in the East with 27 points.
Almiron trained before the team on Monday. It's common for Atlanta United's injured players to do that.
If Almiron can't play, Martino said Kevin Kratz or Brandon Vazquez could fill in his spot.
Martino said that striker Hector Villalba (hyperextended knee)  is healthy and can be selected for Wednesday's game. Defender Chris McCann (hamstring) is out.
Leandro Gonzalez Pirez said Almiron is in good spirits, but is never happy when he's not playing.