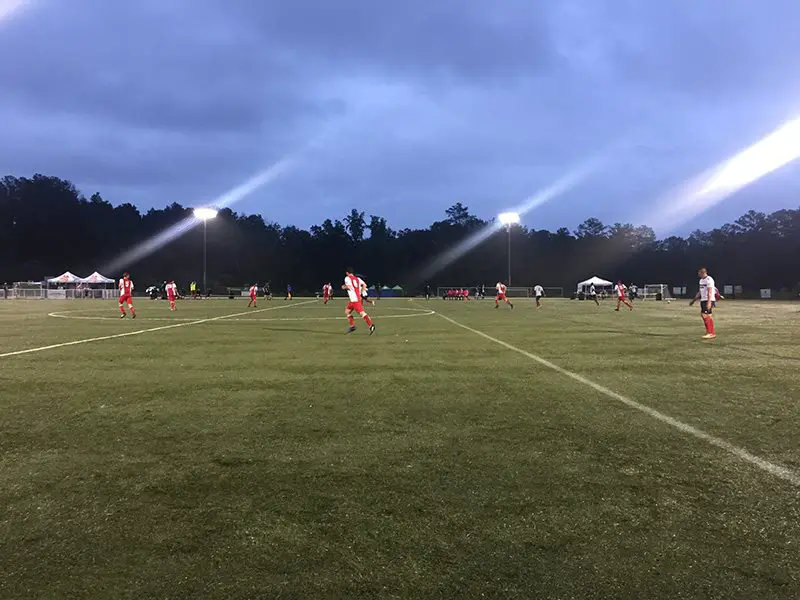 As the drizzle turned into solid rain Thursday evening, the Silverbacks attained an increased sense of urgency. A 1-1 draw against one of the league's struggling sides puts more pressure on Atlanta to find wins at home if they want to catch Knoxville at the top of the East division.
It was not an easy contest for fans to keep up with Thursday night in Birmingham. Rains made it difficult for fans to get out to the field and the inevitable combination of water and technology rendered the usually-dependable Birmingham live stream useless. The resourceful folks at Birmingham Hammers made do with a Facebook Live stream via cell phone. 10/10 for adapting!
What we saw on the live stream was not pretty for either side. A wacky start saw both teams create offensive chances and capitalize on them. For Atlanta, it was young winger Dionysius "DZ" Harmon with the early finish to give the 'Backs a 1-0 lead in the 7th minute. Before they could settle in after the celebration, Birmingham responded. Francisco De Anda finished a chance on the other end to level the score 1-1 in the 8th minute. The only other noteworthy item of the first half was the uncharacteristically bad challenge by forward Keka. The tackle was hard enough to draw a red card from the referee and rendered the 'Backs to 10 men for the remainder of the match. They were paddling upstream against the adverse conditions, both of weather and consequence.
Losing Keka for the match had the potential to derail the potent Atlanta attack. Instead, it fueled them as they opened the second 45 minutes with a flurry of scoring chances. Multiple corners barely cleared by Hammer defenders and dangerous shots just clearing the crossbar were frequent early in the second half. Atlanta had a chance to seize control, despite the man disadvantage. Not capitalizing on these opportunities ended up costing them two additional points on the road.
Now even with Knoxville in matches played, the 'Backs know their mission: get the maximum remaining points (six) and hope Georgia Revolution or Memphis City FC can do you a favor by knocking off the Force. The turnaround for Atlanta is quick as they face the new West division leaders at home on Saturday afternoon.
Be sure to join us for the showdown with New Orleans on Saturday at 5:00 PM. Secure your tickets today and come support the red and black as they push to the postseason!