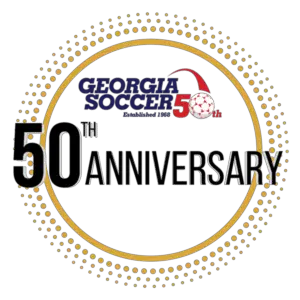 Georgia Soccer Celebrates 50 Years
ATLANTA, GEORGIA (January 28, 2018) – Georgia Soccer will celebrate its 50th anniversary in 2018, marking a half-century of promoting the growth and development of soccer in Georgia. Throughout the year, Georgia Soccer will host numerous soccer celebrations across the state, featuring the 50th Anniversary Gala on July 20, 2018.
The Gala will be held at Mercedes-Benz Stadium's Mercedes-Benz Club and AMG Lounge. Atlanta broadcasting legend, Monica Kaufman Pearson will guide guests through the evening as Master of Ceremonies. Special guest attendances, surprise presentations, and exclusive interactions are planned to take place throughout the night.
In addition to the festivities, Georgia Soccer has announced the Hall of Fame induction of former U.S. Men's National Team players Clint Mathis and Josh Wolff will also take place during the event.
"The 50th anniversary presents a special opportunity to honor the past while also celebrating the future of Georgia Soccer," explained Greg Griffith, Executive Director of Georgia Soccer. "Soccer is the largest youth sport in Georgia and growing and we want to celebrate our success with our Georgia Soccer community."
Since 1968, Georgia Soccer has enriched the lives of millions of players, educated tens of thousands of coaches and referees, and fostered the growth of soccer throughout the state. The organization has been a driving force for soccer and its development due to the dedication of its leaders.
Today, Georgia Soccer's membership stretches across more than 100,000 households in the state and is comprised of administrators, youth participants, coaches, referees, adult players, life members, Hall of Famers, and volunteers.
In its 50th year, Georgia Soccer will honor the organization's pioneers and leaders through several exciting programs, featuring the Top 50 in 50 and Georgia's Soccer Citizens. To ensure the entire soccer community is included in 2018, soccer celebrations are taking place at Georgia Soccer clubs across the state.
Community partners are celebrating the organization in 2018 as well, including Atlanta United FC. The team will dedicate a home match to the celebration of Georgia Soccer and its members in the upcoming 2018 Major League Soccer season.
For more information on Georgia Soccer 50th Anniversary events or to learn how to get involved visit the Georgia Soccer 50th Anniversary homepage.