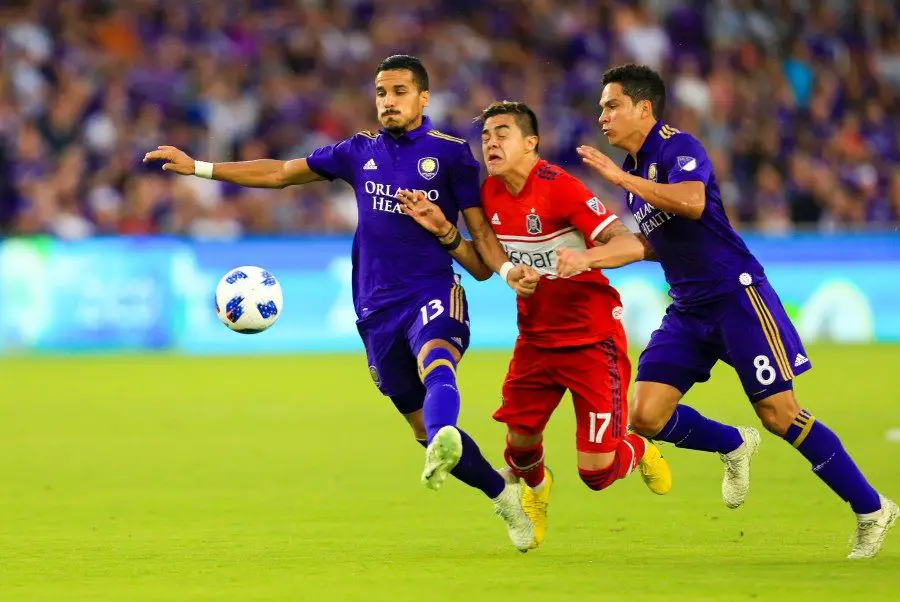 Orlando City (6-5-1, 19 points) lost its third consecutive match Saturday night, this time falling 2-1 to the Chicago Fire (4-6-2, 14 points). With the loss comes an interesting statistic: Since joining MLS in 2015, Orlando City hasn't won multiple league games in May.
Here are three things we learned from the Lions loss to the Fire:
1. Strong performances must lead to results
Looking at just the statistics from Saturday's match, you'd be forgiven for thinking Orlando City won.
Coach Jason Kreis certainly thought the Lions were the better side last night, and outside of two key moments, they were. But soccer – and this is a cliché – is a game of moments. Chicago had two moments of brilliance, and they were enough to let the Fire leave Orlando City Stadium with three points.
Orlando City generated chances, but those chances didn't lead to moments. Josué Colmán had a one-on-one opportunity, but his touch into the penalty area was too heavy. Sacha Kljestan sent a few shots over the crossbar. Justin Meram had a shot denied by Fire goalkeeper Patrick McLain.
All the chances in the world don't matter if they aren't converted into goal-scoring moments. In that sense, soccer, as Kreis said, can be a cruel game. Orlando City has put together three reasonably solid performances and has come away with zero points.
Now Orlando City enters a three-match road trip – four, counting the club's U.S. Open Cup match against Miami United – at a crossroads.
Orlando City can't afford another summer slump. It hasn't built enough of a cushion to withstand another season with one win over June, July and August.
"It's a long season, I wouldn't say these next couple of games defines a season, but I mean we are getting close to out of the playoff picture and it's a goal of ours to stay in that playoff picture," said right back RJ Allen.
A bad June could mean the end for Orlando City's playoff hopes. The matches are June are brutal, too: at NYCFC, at Vancouver, at Montreal, home against Montreal, at Atlanta United.
Points will be hard to come by, but Orlando City needs to put together another run.
2. Praise for Higuita
Cristian Higuita has come a long way from preseason training.
He came into camp out of shape – about 20 pounds overweight, according to Kreis – and still recovering from a calf injury. Since then, and after having a one-on-one conversation with Kreis, Higuita has been a star for Orlando City.
In addition to strong defending, with striker Dom Dwyer out, Higuita has been Orlando City's goal scorer over the last two matches. Earlier this season, he told Pro Soccer USA he wanted to prove he's capable attacking player.
"He's getting himself into some really good spots," Kreis said. "Another really positive performance from an individual player. Unfortunately, hard to count it as too positive because we lost the game. But he's getting himself in some great spots attacking-wise. He was in and around things even more so than his goal. He nearly created another one or two. He's doing well."
Of course, Higuita is more concerned with team success.
"For me, it's been important to score the goals, but I would have liked it a lot better to score and to win," Higuita said through a translator. "For me, I prefer the group objectives instead of my personal objectives."
3. Injuries are depleting Lions' depth 
Centerback Chris Schuler played the entire second half with a broken left arm.
Let that sink in for a second.
It was gutsy, sure, but it was also a necessity. Who could have played centerback if he left the pitch? Donny Toia was a centerback during preseason training, so maybe he could have stepped in. RJ Allen was already on the pitch at right back. Amro Tarek (international), Lamine Sané (lower body) and Jonathan Spector (concussion) were all out.
Replacement right back Will Johnson was so sick he looked like "death warmed over," according to Kreis.
Depth, once a strength for Orlando City, is becoming a problem. Schuler was one of three players, including Tony Rocha and Uri Rosell, who just kind of stared at Alan Gordon while Gordon snatched three points from Orlando City.
The entire back line looked gassed at the end of the match. Rocha was playing his first Orlando City minutes of the season. Schuler got his second start, but – and this can't be said enough – was playing with a broken arm. Allen hadn't started since City's match against Philadelphia.
The Lions need to get healthy again.