BY US SOCCER PLAYERS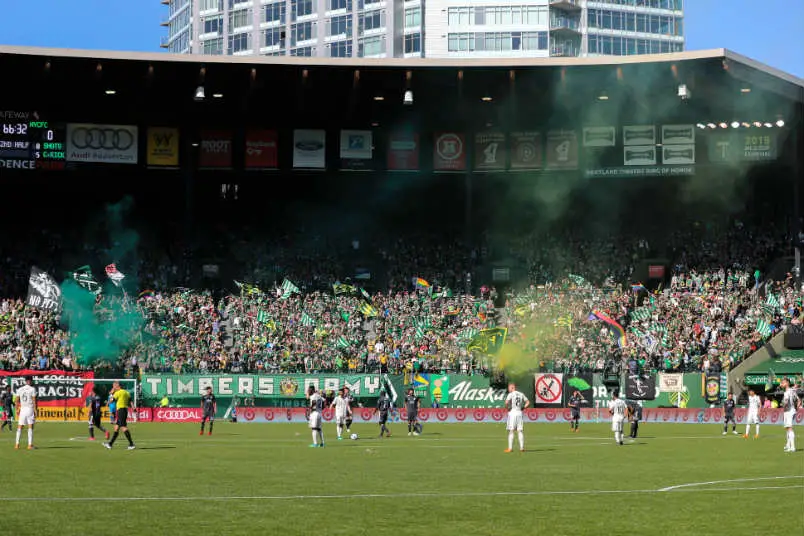 NYCFC took their league leading record on the road on Sunday, losing to Portland 3-0. That result comes on the heels of plenty of praise for NYCFC this season and rumors linking their coach Patrick Vieira with the soon-to-be open Arsenal job. One game doesn't make a season, certainly not in MLS. However, NYCFC goes from obviously the best team in the league to perhaps the best team in the league after the loss to the Timbers.
Atlanta United is a point behind on seven games played to NYCFC's eight. Sporting KC now has the same record as NYCFC and a better goal differential, calling into question the conference imbalance that's been a recent fact of MLS life. Things can change quickly, with NYCFC's draw at Atlanta on April 15 and the loss at Portland on Sunday pulling them back into the fray in the Eastern Conference and the overall Supporters' Shield table. All of this after NYCFC lost their first game of the season, drawing two.
"I think the first reason is the quality of the teams that we've played against," Vieira said. "You have to give credit to the opposition team, how well they've been playing. I think today, we played against a team that prepared for the game well, who were well organized. We had the possession, but it was difficult for us to find space and they made it difficult for us. They scored goals in the period that it was difficult for us. All the credit to Portland."
Maybe to MLS as well, with week 8 suggesting that we're seeing something different. Dominance, the importance of home field, and a broader discussion of potential Supporters' Shield winners from teams in both conferences.
"First, at home is different because of our fans," Portland coach Gio Savarese said. "We've been progressing game after game. I've seen from the game at Dallas to Orlando we have been growing every match. The past match against Minnesota and now I think today, finally a complete match in which the team was very disciplined. But we are home, the crowd, our fans, are fantastic here. They are that extra energy that we need on a constant basis and it's incredible to play at home."
MLSsoccer.com's Charlie Davies takes on the Galaxy's loss to Atlanta. SBI Soccer's Ryan Tomlich reviews MLS week 8.
The Wall St Journal's Joshua Robinson explains the Boston connection to the Liverpool vs Roma Champions League semifinal. The Guardian's Donald McRaeinterviews Liverpool manager Jurgen Klopp. The South China Morning Post's Andy Mitten on Manchester United's FA Cup semifinal win over Spurs. The NY Times' Rory Smith on what that loss means for Spurs. ESPN's Raphael Honigstein looks at Borussia Dortmund's progress. Inside World Football's Paul Nicholson has La Liga's revenue numbers for last season.
All links are provided as a courtesy. US Soccer Players nor its authors are responsible for the content of third-party links or sites. For comments, questions, and concerns please contact us at editor@usnstpa.com