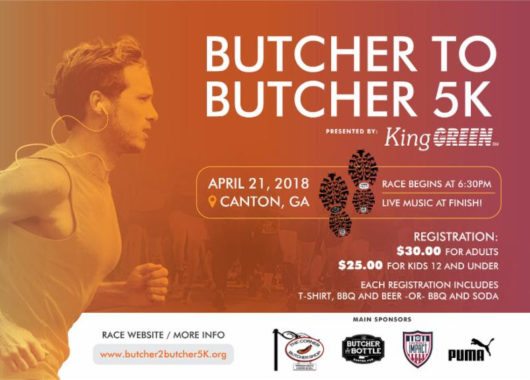 SATURDAY,APRIL 21, 2018
CANTON, GA
​
REGISTRATION IS $30.00 FOR ADULTS AND $25.00 FOR KIDS 12 AND UNDER***
​
EACH REGISTRATION INCLUDES A T-SHIRT, BBQ AND BEER  -OR- BBQ AND SODA.
Race begins at 6:30PM
​LIVE MUSIC AT FINISH!
***A $5.00 Late Charge will be added for registrations completed on 4/15/18 or later.
NOTES:
*Be sure to bring your ID if you are a runner 21 or older to ensure you can enjoy your free beer.
*Race will begin at Liberty Elementary parking lot.
*Please park your vehicle at Freedom Middle School (next door).  Parking will also be available at the end of the race near the Butcher and Bottle.
*We will have a shuttle service available from 7:30-9:30pm to take runners back to the Freedom Middle School parking lot.
*Be sure to bring cash for raffle tickets ($1.00 each) and vendors.
*Reminder for all B&B VIP Members:  Reserve your patio spot by calling the restaurant this week.
*Runners must be present to receive their shirt.  For all registrations after 4/13/18, a shirt is not guaranteed.
*For all registrations after 4/18/18, food and beer not guaranteed.