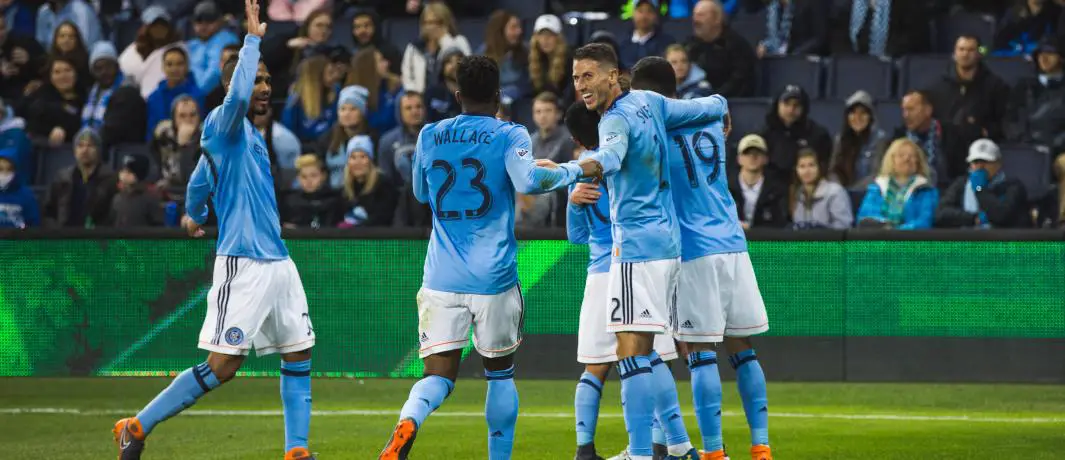 This Sunday, March 11, NYCFC are finally returning to the Bronx!
It's been a busy and exciting offseason with a number of changes across all areas of the Club, from new players to revamped ticket packages and a new, groundbreaking broadcast deal.
Here's a list of everything that's new for 2018 before our Home Opener this weekend against LA Galaxy…
Gameday inside Yankee Stadium will also benefit from some innovations, with a new in-stadium host, expanded fan zone, and the return of the NYCFC Smoke Stacks.
NYCFC Smoke Stacks: A symbol from the streets of the city that never sleeps. Be on the lookout in front of our supporters sections to see our one of a kind smoke stacks set off to signify the start of every match, after every goal scored by the boys and blue and to close out every home victory as only NYC can do.
In-Stadium Host: Be ready to welcome native New Yorker and new in-stadium host, Chelsea Cabarcas to the Bronx on opening day. Chelsea is a Queens native and has played for the Colombian Woman's National team. Read more about her here.
City Beats: Move to the sound of music as you get off of the train or head home for the night. Be sure to look for NYCFC's own street musicians, City Beats, performing on River Avenue pre and post-match for every NYCFC home fixture.
Expanded Fan Zone: FREE fan zone will now be located on the MasterPass Deck next to section 238 where fans of all ages can get their hair or faces painted for free, get balloon art or take a special GIF each match. Fan zone will be open from gates until half-time of each home match.
In-Stadium Music: Listen for a new custom-made mix by Bronx native DJ Mode pre-game of every home match where you can expect to hear a wide selection of music to entertain fans in the most diverse city in the world!
Tunnel of Honor: One of the most beloved NYCFC traditions that can only happen in our great city returns as active, uniformed men and women of the NYPD and FDNY lead our player procession prior to every NYCFC match.
AT&T Thank You: From day one, the final 11 on the pitch have signed mini-balls and thrown them out to lucky fans after every home match – win, lose or draw.
Borough Nights & Giveaways: Introducing new Borough Nights this season! NYCFC will be celebrating all five boroughs and will be giving away borough patches to the first 10,000 fans at select home games. View the full list of promotional nights and giveaways here.
First-Team
New season and a lot of new faces! Get to know our new-look NYCFC before the Home Opener…
10 new players: NYCFC have had a busy offseason when it comes to recruitment on the playing side, bringing in Anton Tinnerholm, Saad Abdul-Salaam, Brad Stuver, Jesus Medina, Cedric Hountondji, Ismael Tajouri-Shradi, Jo Inge Berget, Ebenezer Ofori, Sebastien Ibeagha, and Jeff Caldwell.
Learn more: Introducing NYCFC's new boys.
Youth Camps and Programs
Learn to play the NYCFC way! Our youth programs and summer camps will improve your skills in an engaging, fun and safe environment…
Expanded Camp Locations: We will have 16 weeks of summer camps across Westchester, Nassau, Suffolk County and New York City. For the full schedule, visit NYCFC Summer Camps.
NYCFC Summer Camp in Partnership with Manchester City: New for 2018, NYCFC Youth Programs will run two 1-week summer camps in partnership with Manchester City FC. These camps will take place in New York City and will coincide with Manchester City preseason tour in New York. Campers will be exposed to curriculum designed by both clubs and learn from nationally and internationally certified coaches.
Expanded Talent Center Locations: NYCFC will have 7 Talent Centers in operation in 2018. Three will take place in the Spring (Westchester, Nassau & Suffolk County) and four will take place in the Fall (Westchester, Nassau, Suffolk and New York City). NYCFC Youth Programs Talent Centers are designed for committed players looking for supplementary high level training in a competitive playing environment. It is an 8 week program (per season) & players will only be accepted through a tryout process. Learn more about NYCFC Talent Centers here.
Talent Center Cup: Each Spring and Fall season, Talent Center players will compete in the NYCFC Talent Center Cup. This day of competition will have each NYCFC Talent Center location compete against one another to determine which location will come out as the Season Champion.