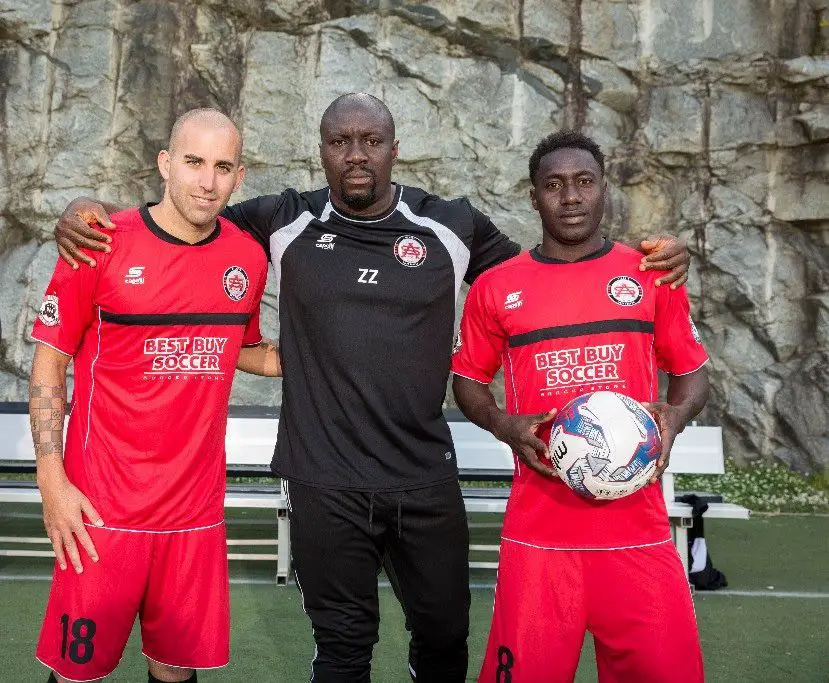 Silverbacks Welcome the Return of Former AC Milan Players to their Technical Staff
ATLANTA- Atlanta Silverbacks is excited to announce the return of former AC Milan, Olympiakos, and Colorado Rapids player Zizi Roberts as part of the technical staff for the 2017 season. Zizi was part of the coaching staff last year and have committed to working with the Atlanta Silverbacks Football club for the upcoming season.
Zizi Roberts is a former Liberian soccer player who began his professional career in 1996 at the age of 17. Zizi played for eight different teams in his native Liberia, Switzerland, Greece, Italy and here in MLS with the Colorado Rapids. At an early age of 17, Roberts made his debut for the Liberian national team where he quickly became a key member of the team competing in two African cups of nations (1996 and 2002), making over 31 caps, scoring 9 goals and winning the Liberian Soccer Player of the Year in 2003. On the club level, Mr. Roberts played for AC Milan (1997 – 1999), Olympiakos (2001), and Colorado Rapids (2003 – 2004). Unfortunately, in 2005 Zizi career was cut short due to injury forcing him to retire from the game.
''We are fortunate to have Zizi as part of our organization. Zizi played the game at the highest level and with one of the greatest players out of Africa, and FIFA Ballon d'Or winner in George Weah. He knows what it takes to compete at the next level. As a young player, having someone like Zizi working with you daily is exciting. Atlanta Silverbacks is a developmental organization, and we are creating a platform to serve as a pathway for the next generation of football players. Having someone like Zizi at our disposal is an opportunity not too many clubs in our league have, and we are extremely excited about that, said Alvin Glay, Silverbacks Managing Partner.
The Silverback will host open tryouts on January 3rd and 4th for the upcoming season. The Tryouts starts at 9AM at Atlanta Silverbacks Park and players can Register Here or at atlantsilverbacksfc.com.
If you would like more information about this topic, please contact Racquel Yeedia at, (404)-917-5216 or email at yeedia_snorti@yahoo.com.