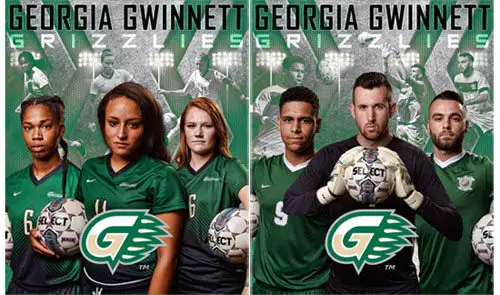 The United Soccer Coaches Association selected four players from Georgia Gwinnett College men's and women's soccer teams. Selected players will be part of the NAIA All-East Region Teams.
GGC seniors Samuel Sampaio Gomes, Jack Gurr, together with freshmen Matija Gligorovic and Michael Weber will be playing on the 11-member men's region squad.
Recently, sophomore Sophie Hoare earned first-team honors for the GGC women. Juniors Ana Gonzalez and Maddy Keenan earn the same honors as well, while senior Amy Morland made it to the second-team.
Because of his outstanding game-plays as a forward, Sampaio Gomes earned regional recognition. He scored six goals and 16 points, placing him second on the team. The native from Aachen, Germany was a 2017 Daktronics-NAIA Scholar-Athlete. College Sports Information Directors of America also selected him to earn first-team Academic All-America honors.
Midfielder Gurr ranked third on the team with 15 points after leading the team with seven assists. He was then named with a NAIA All-American honorable mention, and also set a new program record for his 22 career assists. Gurr was also a first-team All-Association of Independent Institution's player for his play this past fall.
Gligorovic was the only goalkeeper who made it on the All-East team. He was considered for the 2017 A.I.I. Goalkeeper of the Year after posting five shutouts and a stunning record. He has 0.98 goals against average and has a 12-4-2 record in 18 starts in his first collegiate season.
Weber led the Grizzlies in scoring with seven goals and 18 points. He also had four assists and scored three game-winning goals this past season, thus earning an honorable mention as a NAIA All-American and the A.I.I Newcomer of the Year Award.
The four selections from the GGC women's soccer team also did well this past season.
Forward Gonzalez has a new school record with 15 goals and 40 points this past season. This helped her earn a NAIA All-American honorable mention. Gonzalez was also named as the 2017 Association of Independent Institutions' Player of the Year. She started all 20 games and twice tied a school record after she scored three goals in a single match.
Defender Keenan helped the Grizzlies to register eight shutouts which earned her the 2017 A.I.I. Newcomer of the Year award. She started 19 games and made one assist during the season.
Goalkeeper Hoare earned first-team All-A.I.I. accolades this fall. She has a single-season school record of 12 wins, with four shutouts. Not only that but she also had 0.91 goals against average in 18 games.
Forward Morland was named a first-team All-A.I.I. during her senior season for a reason. She scored 20 points and is second on the team for her eight assists. She also found the back of the net six times.
Be updated with the latest news about GGC through Gwinnett Daily Post.
Written by: Purple Jane Collins