SMYRNA, Ga. —
A Cobb County high school senior is in the hospital with a brain injury after a game of bubble soccer.
Salvador "Chava" Reyes was celebrating the end of Campbell High School soccer season with his teammates when he collided with another player, causing the traumatic head injury.
In bubble soccer, players wear inflatable bubbles and run into each other, but during the team's celebration game Friday something went wrong.
Reyes, who was captain of the Spartan's boys soccer team, was going up for a header when he collided with another player and flew back onto the ground.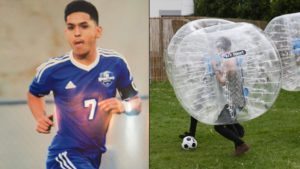 "His forehead just immediately shattered internally and he had some bleeding in his brain," his sister, Ruby Reyes, said,
Chava was just two weeks from graduation when the accident happened.
"He was counting down for it," Ruby Reyes said.
She says her brother was getting ready to try out for a professional soccer team in Mexico after his graduation.
Now he's in the Critical Care Unit at Kennestone Hospital facing a long road to recovery.
"He can open his eyes a little more because the swelling has gone down," Ruby Reyes said.
Doctors are now waiting for the swelling to go down even more before they perform a reconstructive surgery
One of his coaches, Pierina Anderson, says his teammates are distraught and they are pulling together to help him.
"He had a future for him and we just need all help we can to help the family," Anderson said.
Several charity soccer games have been scheduled to help raise money for Chava's medical bills. You can also help the family by 
donating on their GoFundMe page.
 Or to the Salvador Reyes Donation Fund at any Wells Fargo bank. Follow 
his Facebook page
 for updates on his recovery and fundraisers.