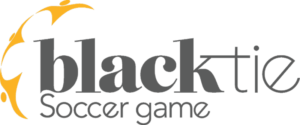 "Black Tie Soccer Game VII will be the ultimate sophisticated silly soccer experience. This year we have chosen a stunning venue which befits our fantastic players, who each year dazzle in their amazing outfits, and sparkle on the pitch," said Bill Ford, Soccer in the Streets board member and Events Committee chairman. "At a seven acre mansion in the heart of Buckhead, you will be able to enjoy the most hilarious game of soccer, catered dining from Park Tavern, and party to live music. We're havin' a ball without the gala!"
The Black Tie Soccer Game – a cheeky way to participate in the global game while dressing the part of a philanthropist, complete with black ties and evening wear – has raised more than $250,000 over the past six years. The event makes a direct impact through pledged donations that sponsor each of the event's players – who compete on the pitch in suits, ties or dresses on top of their shin guards and soccer cleats.
Each player is tasked with raising money in order to participate in the match, which offers the integral soccer experience with an authentic British master of ceremonies, an abundance of goals and trophies on the line – for the Best Dressed, Most Valuable Player and the highest fundraiser.The game features rosters with a co-ed compliment and unlimited substitutions. While the score counts, somewhat, each player's sponsorship  – by friends or family; colleagues, congregations or companies – carries the real impact.
The match kicks off at 
2 p.m.
 and the swanky soiree continues with music, dinner and entertainment until 
5 p.m.
 Advanced tickets for the Black Tie Soccer Game are available at 
www.blacktiesoccergame.com
 for as low as $10.
The event benefits Soccer in the Streets, an organization that has pioneered the use of soccer for social change since its launch in 1989. Throughout the 1990's, Soccer in the Streets introduced soccer to many urban and underserved communities through soccer clinics, especially during the 1994 and 1998 FIFA World Cups and the 1999 FIFA Women's World Cup. Soccer in the Streets is growing in recent years, quadrupling the number of youth being served since 2009.

About Soccer in the Streets: 
Soccer in the Streets is a sports based youth development organization based in Atlanta, GA. Its mission is to empower underserved youth through soccer, character development, mentoring, and employability programs. With over 25 years of experience, the organization is a pioneer among grassroots soccer programs. For more information about Soccer in the Streets, please visit 
www.soccerstreets.org.