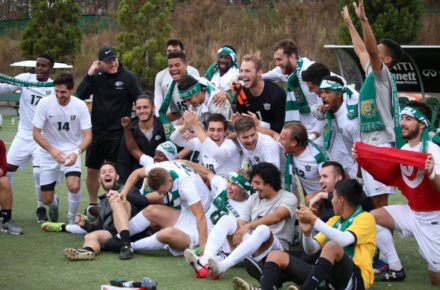 Kudos to GGC Men's Soccer Team's win in its NAIA opening round against Southern Oregon last Saturday, November 18, 2017, at the Grizzly Soccer Complex in Lawrenceville.
The final result of the first NAIA postseason match was 3-2, won by the Grizzlies over Southern Oregon University. The go-ahead goal came in the remaining 16 minutes of the match. Ian Aramburu deflected the pass toward the front of the Raider's net and the winning goal was by Michael Weber.
Coach DeCou joyfully said, "It was just as mad scramble. I saw the ball go up in the air and I didn't know if Ian or Mike was on the other end of it, but I just thought, 'Somebody get there please.'"
The Grizzlies had no wins from the three previous appearances in the NAIA men's soccer championships.
The team did not let their 2-0 loss to Waldorf bring them down. Instead, the team showed that they can recover. That's why they were able to win the first NAIA postseason match.
DeCou shares, "It is playoffs and things can get turned on their head early. When that first goal went in, the initial response is, 'Oh, no, are we going to relive last Saturday?'"
GGC didn't let the match end with a tying score!
The first lead was by Andrew White in a penalty kick early in the first half, giving GGC a 2-1 lead through halftime.
Hansen evened the score 2-2 during the second half by scoring another header goal.
Just about 10 minutes later, Weber scored the winning goal!
"When I saw the ball go up, it was like time didn't pass anymore," Sampaio Gomes said.
The A.I.I. goalie of the year did a fabulous job in his role. He made his fourth and final save of the match to help with the Grizzlies' win.
Final site play in the NAIA tournament will begin for GCC when they plan Vanguard in Del Rey Beach, Fla.
To find out more about the story, check out Gwinnett Daily Post.