Women's Soccer Adds Staff Member
COURTESY: CASSIE FOLCK/SPORTS COMMUNICATIONS RELEASE: 03/06/2013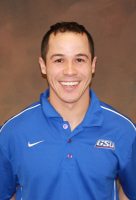 ATLANTA – The Georgia State women's soccer team has added a new staff member with a strong soccer background for the 2013-14 season.
Josh Villalobos, a graduate student at Georgia State University majoring in exercise physiology, has joined coach Derek Leader's staff.
"We are excited to add Josh to the staff," Leader said. "He brings a lot of playing experience that our girls could benefit from. I've known Josh since he was 14, when I was able to watch him play with the US U17 National team. I was also able to briefly coach him during a tour of Brazil."
Villalobos was a member of the U-17 and U-18 US Youth Men's National Team prior to attending Furman for his collegiate days. Villalobos had stellar four-year career at Furman, which included two selections to the All-SoCon Team.
Villalobos was able to train with Real Salt Lake of Major League Soccer, and in January of 2006, he was selected in the 1st round of by the USL Atlanta Silverbacks professional team. In 2010, he was member of the Puerto Rico men's World Cup qualifying team. He is now the head coach of the AFC U11/U12 Gold Boys Teams.
"I'm looking forward to learning from Derek," Villalobos said. "He is one of the best, and Georgia State is fortunate to have him. I have a lot to learn and I'm excited for the opportunity to be a part of the women's soccer program."
Villalobos will work with all aspects of the team, providing his experience and insight.