Taking A Pulse On Soccer In Atlanta
HTTP://SPORTINGATL.COM/2014/07/10/TAKING-A-PULSE-ON-SOCCER-IN-ATLANTA/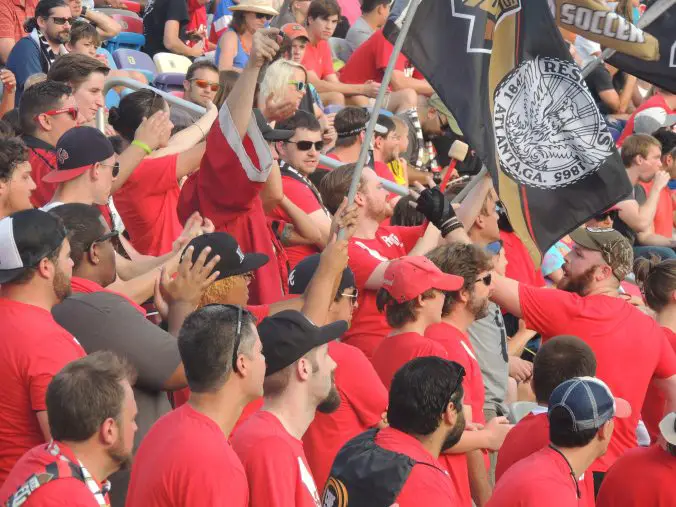 With three years remaining until ATL MLS, Terminus Legion is in great form.
When I began writing for Sporting ATL, the last place I envisioned this endeavor taking me was to an Atlanta Silverbacks soccer match on a Wednesday night.  In fact, the entire Sporting ATL staff made the trek to Norcross to see the home team take on MLS's Chicago Fire.  The occasion was the Lamar Hunt U.S. Open Cup.
According to ussoccer.com:
Dating back to 1914, the U.S. Open Cup is the oldest cup competition in United States soccer and is among the oldest in the world. Open to all affiliated amateur and professional teams in the United States, the annual U.S. Open Cup is a 100-year-old single-elimination tournament.
The Silverbacks had been playing a Cinderella of sorts, as they had already knocked off two consecutive MLS teams in advance of the quarterfinals match against the Fire.  They were one of only two NASL teams remaining in the Cup, with the remaining six teams coming from the top level of competition, MLS.  Follow me after the jump as I recap our night at Silverbacks Park.
We purchased our tickets through Terminus Legion, which included a Silverbacks Battalion shirt and a general admission ticket to the 5,000 seat bandbox which the Silverbacks call home. I'm a dude who values first impressions, and my first impression of Terminus Legion was comparable to when I saw 
Jason Heyward's first Major League at-bat
.  Why? Because price of admission not only included a ticket and cheap T-shirt, but also free keg beer, hot dogs, and a live feed of the World Cup semifinal match. I've been to my fair share of tailgates over the years, but I can't remember one where a group of strangers welcomed me with open arms, willingly offering me free beer and food.  It reminded me of being a college freshman going through fraternity rush all over again.  But dammit, if I am going to drive OTP to watch a Minor League Soccer team, you better do something to "rush" me.
The evening continued with the Legion's march into the stadium, highlighted by the banging of drums, ringing of cow bells, and waving of flags. The impassioned atmosphere was similar to that of a Friday night high school football game.  Once inside, my first impression grew favorably stronger with three-dollar draft beers. This wasn't your average $3 Keystone, either—we're talking $3 Terrapins and other fine crafts. Finally, kickoff came.
Let's get one thing straight—the level of play was far from what we've witnessed in World Cup matches.  This brand of soccer was closer to 
The Big Green
 than 
The Beautiful Game
, but the level of excitement in the stadium was incredible.  The stadium was over capacity with 5,300+ fans in attendance, and most were in their seats by kickoff—an absolute rarity in Atlanta sports culture.  It was obvious that fans really cared.
Both sides were scoreless when a fight broke out between reigning MLS MVP Mike Magee and Atlanta's Jesus Gonzalez.  Double red cards were issued, and the game continued with only 20 men on the field.  After 45 minutes, we went into halftime with a scoreless barn burner, though the Silverbacks had controlled possession and seemed to have the upper hand.  The Fire struck first at the  50 minute mark, and Atlanta's Deon McCaulay provided an equalizer four minutes later.  At this point, I was fully immersed into the action.  The Sporting ATL staff was handing out high-fives, rejoicing, and intensely pumped about the game.  This wasn't the NFC Championship or Eastern Conference Finals, but it felt like it.
A late PK and a garbage time goal would ultimately lead to a 3-1 loss for the good guys, but it didn't matter on this night.  We were here to witness the beginnings of an Atlanta grassroots sports movement, one that looks to be alive and well.  Wednesday night had me salivating for 2017.  The camaraderie amongst fans was something unique. The game wasn't broadcast on national TV, but to those in attendance, there was nothing more important then supporting Atlanta soccer.  The pulse is strong, fellow Atlantans.
S/O to Terminus Legion for hosting the tailgate.  You are pressing all the right buttons to further grow Atlanta fan support, and to that, I tip my cap.
– Rocker
http://sportingatl.com/2014/07/10/taking-a-pulse-on-soccer-in-atlanta/