ATLANTA, GEORGIA—Our very own adult soccer club Hammers FC is having a splendid year as far as the national adult soccer competition is concerned.
For the year 2021, Hammers FC has won two major national adult soccer tournaments and counting.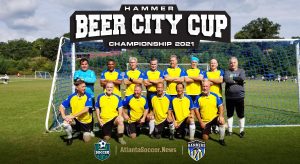 Last January 18, Hammers FC won the tough Florida Classic men's open over 60 division for the second straight year.
Last September 5, Hammers FC also won the 58 and under the division of the national adult soccer tournament 2021 Beer City Cup at the Buncombe County Sports Park Asheville, North Carolina.
The team composed of Bill Dalton, Nasser Golshani, Nick Bogle, Gary Keotters, John Kaziow, Mike Dent, Martin Clark, Jacenir Silva, Steve Wu, Mike Sweeney, Peter Kealy, Ernesto Montes, Trevor Donovan, Mike Moran, and David Good won $1200 as a prize.
An estimated 111 soccer teams all across the United States joined the 2021 Beer City Cup.
According to the organizer of the nation's biggest adult soccer event, the 111 teams who registered since June 1 are larger than the 92 teams they hope to accommodate this year.
Many teams joined this year's event co-sponsored by Ashville City Soccer Club since it offers beer, soccer, and cash to participants and spectators.