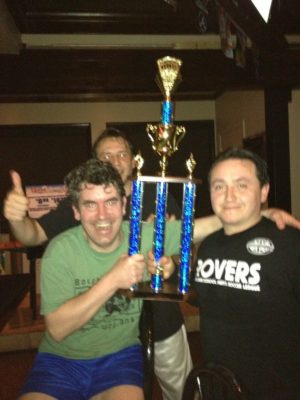 Find the joy predicting the World Cup scores in Atlanta Soccer News local predict the score contest. You are invited to play in this years league.
·         Here the deal: You pick the scores of each World Cup game for each week. You pick the top 5 scorers for that week. You earn points.
·         Time: takes 5 minutes a week.
·         Extras: We will have weekly playing/drinking/discussion  events at fields and strategically located pubs. Mostly in Cobb/Fulton County. Weekly winners will be honored and will earn a beer.
·       Cost: FREE
·         All you need to do to join your league is:
1. Register at 
http://predictthescore.net
2. Log in
3. Select 'Mini Leagues' from the 'My Account' menu
4. Enter the code belowMini League Name:
Access Code: 110954220
Atlanta Soccer News
Winner will be honored at an all-expenses paid  party dedicated to his triumph…a trophy and a cool shirt. Best of all you will be recognized as the supreme soccer sage in Atlanta for that World Cup.
If you know of someone else who may want to join, please forward this letter.
Last years winner and this summer's winner was Mark Stevens aka Markaroni….take the challenge to know him down.
We had over 25 players last year consisting of many local personalities.
Last Seasons EPL Standings
Rank
Team
Predict The Score
Predict The Scorer
Total
TW
Total
TW
Total
TW
Total
1
Markaroni (1st overall)
0
943
0
163
0
1106
2
Quique Park Rovers (30th overall)
0
881
0
115
0
996
3
weaux (71st overall)
0
854
0
106
0
960
4
Buffalo Wild Wenger (74th overall)
0
834
0
125
0
959
5
Roswell Red Devils (107th overall)
0
837
0
99
0
936
6
Groeneveld (131st overall)
0
845
0
78
0
923
7
Yid Army (166th overall)
0
815
0
94
0
909
8
Team Yeti (262nd overall)
0
793
0
70
0
863
9
Teddy's Hot Spurs (297th overall)
0
739
0
103
0
842
10
Oranje (371st overall)
0
712
0
69
0
781
11
LFC (434th overall)
0
612
0
64
0
676
12
Spurs of Steel (436th overall)
0
619
0
56
0
675
13
CanuckMariettaLoyal (472nd overall)
0
525
0
36
0
561
14
Zobop (474th overall)
0
511
0
48
0
559
15
Shot in the Dark FC (475th overall)
0
502
0
57
0
559
16
FC SPHYNXX (491st overall)
0
481
0
46
0
527
17
Barça (496th overall)
0
470
0
49
0
519
18
Augustino15 (505th overall)
0
481
0
26
0
507
19
Das Boots (544th overall)
0
357
0
37
0
394
20
The predictor (546th overall)
0
340
0
42
0
382
21
Lucas rovers (551st overall)
0
325
0
46
0
371
22
Manchester City (578th overall)
0
277
0
34
0
311
23
shah (628th overall)
0
162
0
9
0
171
24
ATL FC (704th overall)
0
73
0
10
0
83
25
Rovers (752nd overall)
0
52
0
5
0
57
26
#1 German (860th overall)
0
23
0
2
0
25