GREG HARKIN – 27 FEBRUARY 2015 03:00 AM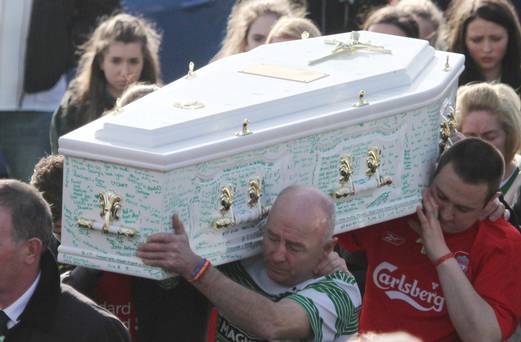 A TEENAGE SOCCER STAR KILLED IN A CAR CRASH WAS LAID TO REST IN A WHITE COFFIN ADORNED WITH HUNDREDS OF MESSAGES OF LOVE WRITTEN BY FRIENDS AND FAMILY.
THE FUNERAL MASS WAS VIDEO-RECORDED FOR HER SISTER LISA WHO WAS CRITICALLY INJURED IN THE CRASH IN CO DERRY AND IS BEING TREATED AT ALTNAGELVIN HOSPITAL.
MORE THAN 1,500 MOURNERS HEARD GLOWING TRIBUTES PAID TO "SUPERSTAR" GEORGIA'S SOCCER AND GAELIC FOOTBALL SKILLS.
THE CONGREGATION WAS TOLD BY A SCHOOL FRIEND THAT GEORGIA ONCE SCORED A HAT-TRICK FOR REDCASTLE GIRLS IN A 6-0 WIN OVER A BOYS' TEAM FROM MOVILLE.
GEORGIA'S COFFIN ARRIVED AT THE CHURCH IN A HORSE-DRAWN GLASS HEARSE AND WAS TAKEN INTO THE CHURCH BY HER DAD GEORGE AND MUM ROSEMARIE.
MANY MOURNERS WORE THE JERSEYS OF THE TWO TEAMS GEORGIA SUPPORTED, CELTIC AND LIVERPOOL.
READ MORE: PRIEST LEADS SOCCER-STYLE OVATION AT FUNERAL OF 'SUPERSTAR' GEORGIA (13)
"THIS IS NOT PARKHEAD OR ANFIELD BUT I KNOW GOD WON'T MIND IF WE HAD A ROUND OF APPLAUSE FOR OUR OWN NUMBER 10," SAID FR TONY MAILY.
FOR THREE MINUTES THE CONGREGATION APPLAUDED THE TEENAGER WHO REPRESENTED INISHOWEN AT SOCCER AND GAELIC.
"WHEN GEORGIA WALKED INTO A ROOM SHE LIT IT UP WITH HER SMILE," SAID FR MAILY. "I REMEMBER HER HERE DOING THE SECOND READING AT HER FIRST COMMUNION, STEPPING UP AND READING SO CLEARLY AND DILIGENTLY THAT SHE DELIVERED THE WORD OF GOD TO EVERYONE – SO WELL THAT SHE THREATENED MY OWN POSITION."
READ MORE: FAMILY PAY TRIBUTE TO 'SUPERSTAR' DAUGHTER KILLED IN HORROR CRASH
"NEVER WAS THERE A DULL MOMENT WHEN GEORGIA WAS PRESENT," SAID CAOIMHE PRICE. "SHE MADE PEOPLE SMILE AND LAUGH. SHE WAS KNOWN FOR HER ABILITY TO CHEER PEOPLE UP, A REASON WHY GEORGIA WAS LOVED DEARLY BY ALL."
CAOIMHE ALSO RECALLED REDCASTLE GIRLS BEATING THE BOYS.
"GEORGIA WAS THE STAR PLAYER, SCORING THREE GOALS. THE BOYS WERE NOT AFRAID TO ADMIT THAT GEORGIA WAS AN AMAZING PLAYER WITH SO MUCH SKILL," SHE SAID.
AS THE COFFIN WAS TAKEN FROM THE CHAPEL, THE SHARED CLUB ANTHEM OF CELTIC AND LIVERPOOL, YOU'LL NEVER WALK ALONE, WAS PLAYED.
HTTP://WWW.HERALD.IE/NEWS/MESSAGES-OF-LOVE-COVER-CRASH-TEEN-GEORGIAS-COFFIN-31025822.HTML