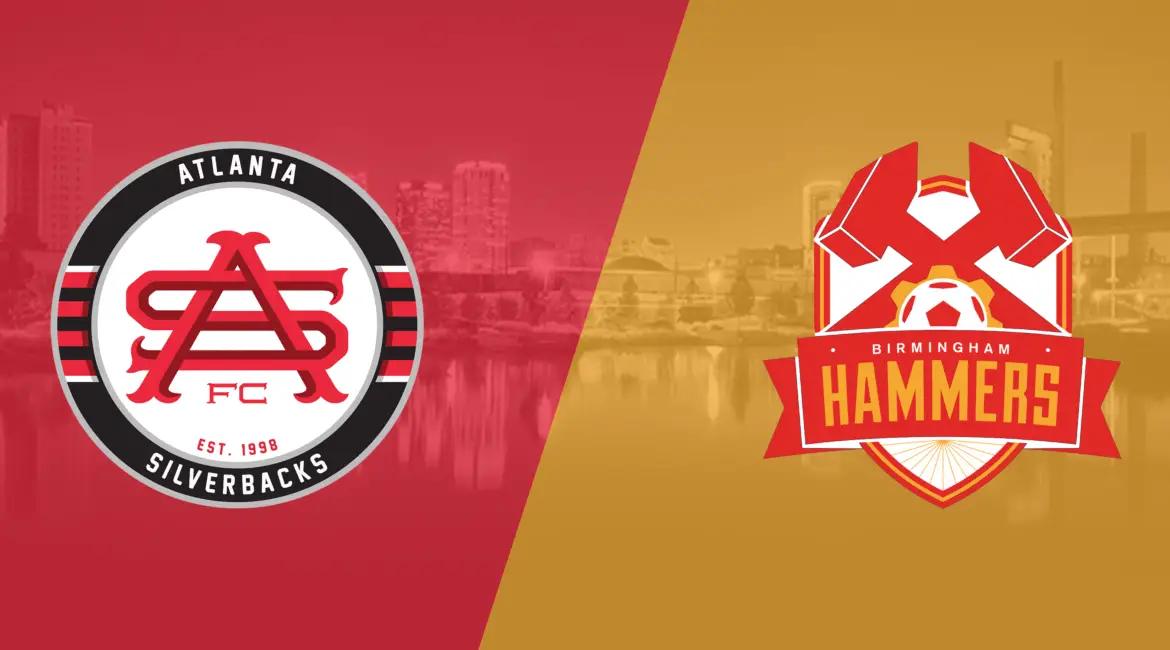 The Atlanta Silverbacks will again face their Week 1 opponents, the Birmingham Hammers, tomorrow night at Sicard Hollow Athletic Complex. The 'Backs fell to the Hammers at home in the opening match of the season, shocking plenty in Atlanta and around the league. Both teams are trying to recover from struggles on Saturday (and Tuesday, for Birmingham). Kickoff this Thursday is set for 8:00/7:00 PM CT.
BIRMINGHAM HAMMERS
Since that Week 1 victory, the Hammers have only gotten one other result: a 1-1 home draw with Inter Nashville FC on May 13th. In the month and a half since then, Birmingham has produced a 7-match losing streak. Over that span, they have given up 27 goals while only scoring seven. That's an average of nearly 4-1 over this 7-game skid. However, the Hammers have produced four of those seven goals in this losing streak at home, showing their most competitive efforts against New Orleans (6/10) and Knoxville (6/17). Birmingham will look to rely on Ryo Shimazaki, who has provided on mild offensive boost.
LAST MATCHUP
In one of the more bizarre and frustrating matches of the year for Atlanta, the Hammers came to Silverbacks Park back on May 6th and got a 2-1 win to open the NPSL campaign. The National Game of the Week was seen by a large audience, and they saw the 'Backs control possession and offensive opportunities. Alex Brown struck in the 17th minute to give Birmingham an early 1-0 lead. After plenty of offensive prodding by Atlanta, 'Backs forward Joao Johanning Mora got on the board with a bouncing ball past the sprawling Hammers GK in the 63rd. Finally level and ready to fight for the win, Atlanta immediately gave up another set piece goal, as David Valverde converted a free kick in the 67th minute to reclaim the lead. The 'Backs never mustered an equalizer and fell 2-1 at home to open the season. Click below for the match recap.
PLAYER TO WATCH
Plenty of young talent has proven themselves this year for Atlanta. Winger Dionysius "DZ" Harmon has proven to be an excellent offensive threat on the right wing as well as a proficient defender in the middle third of the pitch. Newcomer Kekahas been an offensive explosion since arriving with the team on June 3rd. He's put home 4 goals in five matches played.
The player to watch this week is another young newcomer that is starting to see more and more minutes on the pitch for Coach Phoday Dolleh. Santiago Loaiza had his season debut delayed due to league paperwork delays, but his impact on the field has been noticed over recent matches. Santi has provided a spark from the bench in the place of veteran midfield players. His speed and quickness give him the ability to facilitate scoring chances as well as throw shots on goal himself. Look for Santi to have a bigger role as the depth of the team plays a factor over this final stretch.
TABLE IMPLICATIONS
For Atlanta – The 'Backs watched these very Hammers get hammered in Knoxville last night. The Force took control of the East division Saturday and now have 20 points with two matches to play. To keep pace, the Silverbacks need to take three points in Birmingham. It will be a showdown with New Orleans at home Saturday that next determines their fate.
For Birmingham – At this point in the season, there is a very slim chance for Birmingham to catch Memphis City FC for 4th place in the West division. With that in mind, there are not many table implications for the Hammers. It is about putting together successful stretches of soccer and trying to make life difficult for Atlanta, Memphis City, and New Orleans.
AROUND THE LEAGUE
It is a busy mid-week schedule for the NPSL Southeast Conference. Check out What's On Tap to see the full slate. As mentioned, we all saw Knoxville dismantle Birmingham Tuesday night 6-2 at Sansom. Tonight, the red-hot Chattanooga FChost Memphis City FC (who won't be put down by enemies or fans alike) as MCFC tries to forge their way to the final West playoff spot. On Thursday night, Atlanta and Birmingham are joined by another cross-division matchup: New Orleans Jesters at Georgia Revolution. Saturday holds a full slate of league matches as the race for the playoffs is starting to wind down.
Stay tuned to Facebook, Twitter, and Instagram for more Silverbacks information. Thursday's match in Birmingham will be stream via the Hammers website. Keep an eye out for links tomorrow.
The Silverbacks return home Saturday to face the New Orleans Jesters in a high-profile matchup of likely playoff teams. Tickets are just $10, kids 10 & under are free, and the $3 beer special begins at 3:00 PM at Extra Time Bar & Grill. Secure your tickets today and come support the boys in red and black!