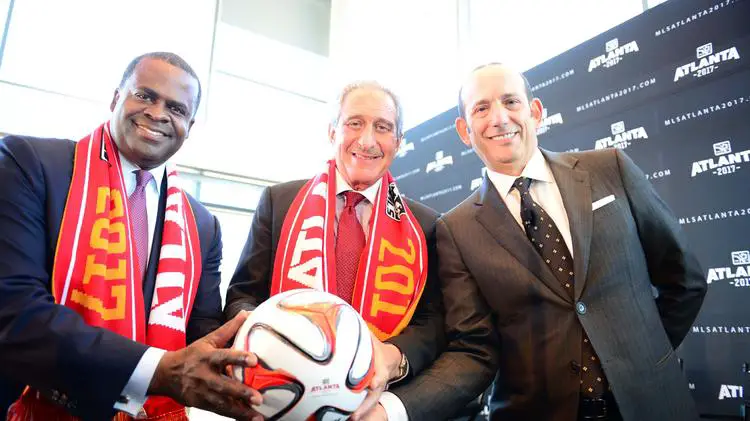 49-acre parcel in Marietta, Ga., is being eyed as the possible training facility for Atlanta's new Major League Soccer team, Atlanta United FC.
The property is made up of two apartment complexes on Franklin Road recently purchased by Marietta, reports Marietta Daily Journal.
Woodlands Park and its 24 acres were purchased for $7.8 million, while Flagstone Village and its 25 acres were purchased for $11.6 million, the paper said.
Marietta is buying and tearing down apartment buildings on Franklin Road in an effort to attract new development. Crime and shabby apartments in the Franklin Road corridor have been blamed for dragging down development in that area and on property along Delk Road near Interstate 75.The area is being rejuvenated, aided by the Braves stadium 'halo effect,' Cobb officials say. The Franklin Road corridor is two highway exits up from the new Braves mixed-use development in Cobb County's Cumberland area.
Marietta Mayor Steve Tumlin said Monday the team would like the training facility up and running by the end of 2016, so he expects Arthur Blank, the owner of both the Atlanta Falcons and Atlanta United FC, to soon make a decision on the property soon, MDJ reports.
"The ball's completely in their court. … They're giving us a fair look, and they're looking at supposedly three other places, but we might be in the top two," Tumlin said. "I can't speak for somebody else, but I think the sooner they make a decision, the better for them. We're just willing sellers."
Atlanta Business Chronicle reported in March Atlanta's Major League Soccer team had launched a search for a site to house its new training facility.
The site could range from a minimum of 15 acres with four fields to as many as 40 acres with more than a dozen fields, MLS Atanta president (now Atlanta United FC) Darren Eales said at the time.
Eales did not rule out the possibility of the 165-acre former General Motors plant in Doraville. Another possibility is Fort McPherson near East Point, where Tyler Perry has a contract to buy 330 of the fort's 488 acres.The first soccer season starts in 2017, in the new $1.4 billion stadium the team will share with the Falcons. The stadium is downtown next to the team's current Georgia Dome home.
A long-anticipated deal to sell producer and actor Tyler Perry a large portion of Fort McPherson in southwest Atlanta won final approval June 26.
On Tuesday, Atlanta's soccer club unveiled its new logo, along with the team's official colors. (Click here to read more.)
Atlanta Business Chronicle