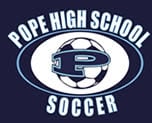 Pope Greyhounds Summer Youth Soccer Camps: June 20-24 2011
Morning (9:00-12:00) session is for students entering grades K-5.
Evening (6:00-8:30) session is for students entering grades 6-9.
Camp Focus: This soccer camp focuses on improving players through fun, dedicated games and activities. Players will be actively engaged the entire time they are attending the camp. All camps are for boys and girls. Players will be grouped by age and ability. *Each child must bring appropriate shoes for the field and for the gym, a water bottle with his/her name on it, and an appropriately sized ball.
The youth camps the past two years have been fantastic and we are looking to build on that success. There will be room for 50 participants in each session so register early to ensure your spot.
At this time we still have openings, please spread the word!
Registration is now open! Download the form and send it in to reserve your spot. Form Download
Email: richard.groeneveld@cobbk12.org
College showcase camp for boys entering grades 10-12 will be at Pope High School June 26th-June30th
This will be an elite camp, all instructors will be college soccer coaches. Players from all area high schools are invited to apply.
Details and registration will be available here soon.
Registration must be done through Coach Groeneveld.
Email: richard.groeneveld@cobbk12.org