After watching from Argentina, Escobar ready to take field with ATL UTD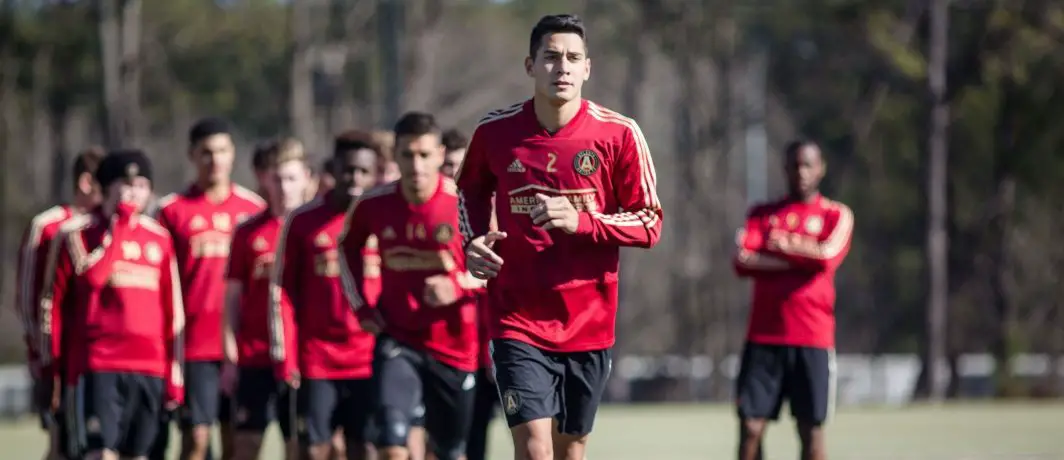 Franco Escobar, one of Atlanta United's new defensive additions this offseason, hasn't been in the United States very long. But he knows the Five Stripes inside and out.
"I watched many Atlanta United games in Argentina, most of them were broadcast on television there," he said Tuesday, through a translator. "It's a team I liked to watch, I know the style of play and the players on the team."
It's no surprise that Atlanta United is a popular team in Escobar's home country of Argentina. Particularly for a former Newell's Old Boys player like Franco, a Tata Martino team is must-see soccer.
"Tata is one of the biggest idols from Newell's. The name Tata is like a holy word. The two biggest things for me [coming to Atlanta] were playing for Tata and just the whole project of the club."
But Tata wasn't the only Argentine connection that made moving to Atlanta an easy decision.
"I talked to Leandro [González Pirez]. He reached out to me and made himself available and said whatever I needed I could talk to him about it."
But what are Atlanta United fans getting in their new defensive recruit?
"In Argentina I played as a center back, like Parkhurst, but I also played as a right back. So I'm comfortable with both, but I like to get forward on the right. I don't know if I would compare myself to him, but one player I was able to play with and is an idol of mine is Gabriel Heinze."
Moving to a new country and a new league is a big adjustment for any player at any level. Fortunately Franco got a sneak peek from his television screen at what was to come in the United States.
"The games I've seen, the field is fast," Franco said. "The guys play a lot of one-touch, and MLS is a lot of up-and-down. They're fast-paced games, the rhythm is very fast. In Argentina, some games are like that, but some teams don't play like that. In MLS it seems like there is a lot of one-on-one defending and a lot of up-and-down."
Atlanta United fans will hoping he settles in quickly to become another South American success story in the capital of the South. While he's only been here a week, Franco says he likes what he sees from his new home.
"From the little I've seen of the city so far, I really like it. If things work out well, I'd love to spend a lot of time here."
The players will continue their hard work throughout the week as the prepare for their season opener in March. Single-match tickets are now officially on sale, click here to make sure to reserve your spot now.