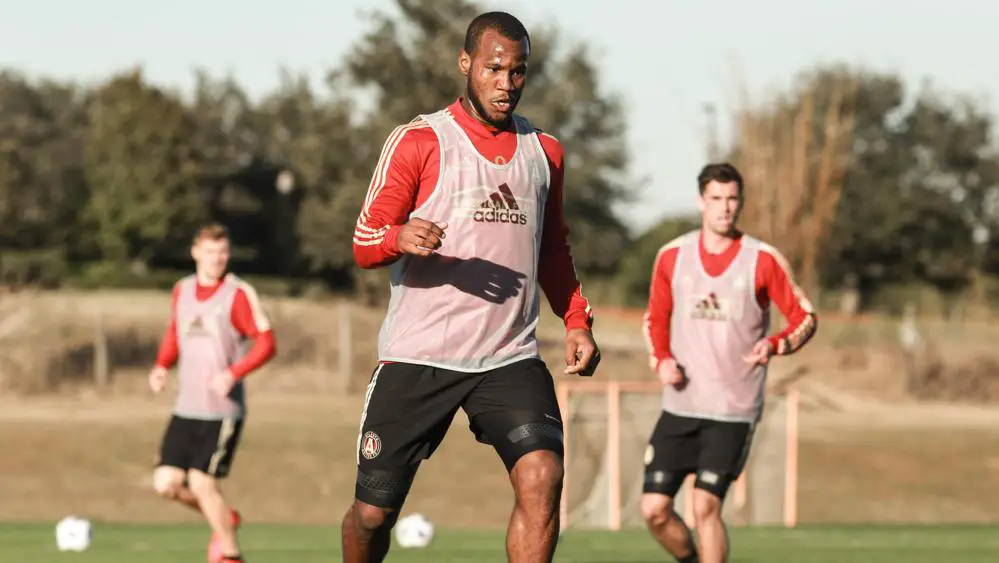 For many of the Atlanta United regulars, Wednesday's U.S. Open Cup game against Charleston Battery represents a break right in the heart of a grueling schedule. With a heavyweight bout against New York City FC looming Saturday, many of the squad's mainstays are unlikely to be in Wednesday's starting 11.
But for younger players looking to establish themselves – such as Romario Williams – it's a golden opportunity.
"It's a huge possibility," Williams said Tuesday. "So I'm just trying to prepare myself mentally and physically the best I can to go out there and be myself, have a good showing."
Williams knows the opponent as well as anyone on the team, having played for the Battery on loan for two seasons. He knows how Charleston will approach this match, and is eager to assert that the Five Stripes cannot afford to overlook the USL squad. He noted the Battery – who have gone unbeaten in their past 11 matches – have been playing with a back three, and can frustrate opponents with their discipline and swift counter-attacking ability. The two teams played to a 0-0 stalemate in Atlanta United's preseason finale in February.
"I know what those guys can do," Williams said. "I know what they're capable of. It's a game we're going to approach seriously just as any other game. We're not going in there to underestimate the opponent just because they're in the second division."
In his time with Charleston, Williams tallied 25 goals in 54 appearances, leading the team in goals both seasons. That loan spell earned him a spot with Atlanta United this season and a call-up to the Jamaican national team in 2017, where he helped guide them to a Gold Cup final.
Though he has yet to start a game for the Five Stripes, Williams has appeared in eight games this season, netting a goal off the bench in a 5-0 rout over Los Angeles FC.
On Wednesday, he, among others, will get the chance to stake his claim among the squad's regulars. "Obviously it's an opportunity to show the coaches that we're ready, that we're mentally tuned in, that we're prepared for the occasion."
Manager Gerardo Martino affirmed Williams' sentiment, adding that it's an opportunity Williams and some of his teammates – specifically, Andrew Carleton, Kevin Kratz, Sal Zizzo, and Brandon Vazquez – have earned, not been handed.
"Those guys are all training well. And when they go into the games for 15-20 minutes they're doing a good job. … I think they deserve a chance to play."
Yet Williams insists this isn't merely some individual trial. Surely he wants to prove himself individually. He knows what a strong showing could do for his future with the club. But he, and everyone else in the locker room, wants one thing above all for Wednesday night's opener in the single-elimination tournament.