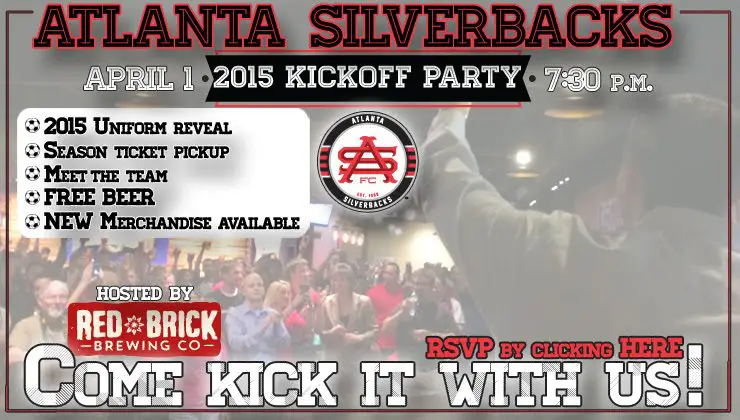 Silverbacks announce 2015 Uniform Reveal, Kickoff Party
Kickoff 2015 with the Silverbacks
ATLANTA
 — The Atlanta Silverbacks announced plans for their 2015 Kickoff Party hosted by 
Red Brick Brewing Company
. The celebration will launch at 
7:30 p.m. on April 1
 and will feature the 
official reveal of the Club's 2015 home and away uniforms
, an opportunity for
pictures and autographs with the team and coaching staff
, and
season ticket pickup.
The official 2015 Kickoff Party is open for Silverbacks supporters of all ages.
AND the Silverbacks take the field for the first time in 2015 this weekend asthey host Georgia Southern University and Georgia State University on March 7 at 4 p.m. at Silverbacks Park.
FREE ADMISSION TO ALL PRESEASON GAMES 
The Silverbacks will play both collegiate teams in shortened stanzas. Georgia Southern, Sun Belt finalists, finished 2014 with an overall record of 8-9 and 3-2 in the Sun Belt Conference. Georgia State finished 8-10-0 in 2014.
A clash between two professional sides intensifies preseason preparation as USL-expansion side Charlotte Independence visits Atlanta on March 14. The full-length exhibition will kick off at 4 p.m. from Silverbacks Park. Charlotte is also the USL affiliate of the Colorado Rapids, where Silverbacks head coach Gary Smith lifted the MLS Cup in 2010.