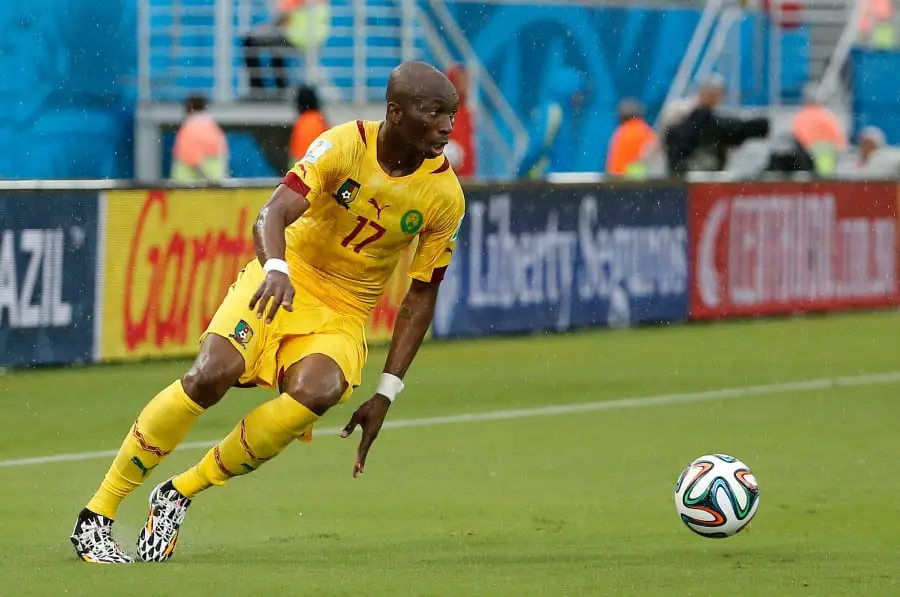 Stéphane Mbia is in Atlanta.
He was seen in the airport on Friday and then attended Atlanta United F.C.'s 5-0 win over LAFC Saturday at Mercedes-Benz Stadium. Mbia was spotted after the game chatting with Atlanta United's technical director Carlos Bocanegra and director of soccer operations Paul McDonough on the field, multiple outlets reported. He also took a photowith former Atlanta Falcons' wide receiver Roddy White at the game.
So, someone had to ask coach Gerardo "Tata" Martino if there was any truth to him and the team having interest in the Cameroonian midfielder.
Martino typically answers questions from the media through a translator, but he didn't need one for his simple response.
"I don't know," the Argentinian coach said.
The room erupted in laughter. It was clear that, even a different reporter pressed Martino on the matter, he would remain quiet about a potential acquisition.
But fans and media remain curious about Mbia. He could be the No. 6 the team has been searching for since it shipped Carlos Carmona to Chile in an unexpected move during the offseason.
Carmona was one of the league's best defensive midfielders last season and was a big reason why Atlanta United was so successful in its first year as an expansion team. But the Five Stripes sold him to Colo-Colo, a Chilean club, in January so Carmona could be with his pregnant wife. 34-year-old Jeff Larentowicz has filled the position since.
Mbia, 31, would bring experience and stability to the CDM slot on Atlanta United's depth chart. He has 67 caps for the Cameroonian national team and has played for clubs in top leagues across Europe. The 6-foot-3 midfielder most recently played for China Hebei Fortune, who cut him on March 2.
Bocanegra and Mbia played for the same side for two seasons, as each were with French Ligue 1 club Stade Rennais in 2008 and 2009. Mbia also played for Olympique de Marseille in France, England's Queens Park Rangers, Spain's Sevilla FC, and Turkish side Trabzonspor.
He won a pair of Europa League titles with Sevilla and twice represented Cameroon at the World Cup. Martino was coaching FC Barcelona when Mbia was playing for Sevilla.
Mbia plays a lot like Carmona in that he's a strong and quick defender who can pass as well as he tackles. He can roam box-to-box, be a playmaker and a defensive anchor.
When approached in Atlanta's Hartsfield-Jackson airport by reporters, Mbia gave a "no comment" when asked if he was signing with the team, but he did pause to take photos, sign autographs and shake hands with fans.
As of Sunday, there is still no official word from the club on whether or not it will sign Mbia.