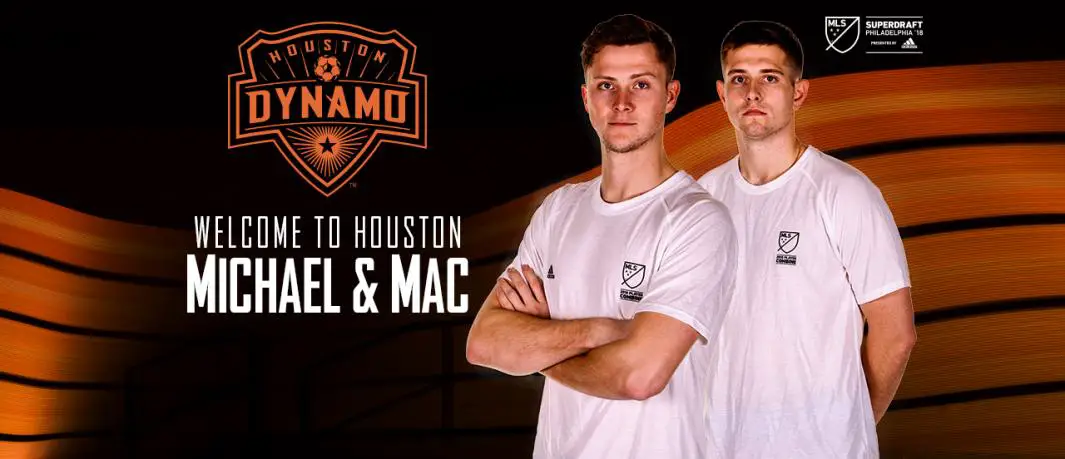 The Houston Dynamo selected goalkeeper Michael Nelson and forward Mac Steeves in the 2018 MLS SuperDraft presented by adidas. The Dynamo held the 20th pick in each of the first two rounds of the SuperDraft, giving them the 20th and 43rd overall selections.
The club chose Nelson, a native of Katy, with the 20th overall pick in the first round. The Dynamo saw Nelson's abilities first-hand in December when he took part in the first-ever Houston Dynamo Goalkeeper Combine. An alumnus of Seven Lakes High School in Katy, Nelson was a three-time All-American Athletic Association First Team selection at Southern Methodist University. The goalkeeper appeared in 76 games for the Mustangs and tallied 27 shutouts during his collegiate career. The 23-year-old was named the American Athletic Association Goalkeeper of the Year as a freshman and a senior.
Steeves was a three-time All-Big East selection at Providence College, earning First Team honors as a sophomore and a senior. The forward finished his collegiate career with 35 goals and 12 assists in 73 games. The Needham, Massachusetts native was named the Big East Freshman of the Year in 2014 and earned NCAA Men's College Cup Most Outstanding Offensive Player after scoring a brace in a 3-2 extra-time loss to UCLA in the semifinals.
The 2018 Major League Soccer SuperDraft presented by adidas will continue on Sunday, January 21 at 1 p.m. CST with the third and fourth rounds taking place via conference call. Houston holds two picks in the third round (Nos. 59 and 66 overall) and one in the fourth round (No. 89 overall).
TRANSACTIONS: The Houston Dynamo selected GK Michael Nelson (No. 20 overall), F Mac Steeves (No. 43 overall) in the 2018 MLS SuperDraft.
Michael Nelson
Full Name: Michael Nelson
Position: Goalkeeper
Height: 6-4
Weight: 180
DOB: February 10, 1995
Hometown: Katy, Texas
College: Southern Methodist University
Nationality: USA
How Acquired: Selected in the first round (No. 20 overall) of the 2018 MLS SuperDraft
Mac Steeves
Full Name: Mac Steeves
Position: Forward
Height: 6-3
Weight: 208
DOB: July 31, 1994
Hometown: Needham, Mass.
College: Providence College
Nationality: USA
How Acquired: Selected in the second round (No. 43 overall) of the 2018 MLS SuperDraft