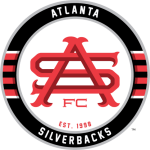 U.S. SOCCER ANNOUNCES FORMAT FOR SILVERBACKS' 11TH OPEN CUP
After historic 2014, Atlanta sets sights on more domestic glory
ATLANTA – The Atlanta Silverbacks are returning to the Lamar Hunt U.S. Open Cup in 2015 after a historic quarterfinal run in 2014. The Silverbacks will feature in their 11th domestic cup tournament – showcasing a record number of participants – with a third round entry, which kicks off on May 27.
The 2014 campaign saw Atlanta upset a pair of Major League Soccer clubs – Real Salt Lake and the Colorado Rapids – en route to being one of two NASL teams in the quarterfinals. The Silverbacks outscored opponents 10-5 in 2014, including a stoppage-time stunning of Salt Lake at home and an upset with 8-men over Colorado on the road.
"There was no shortage of excitement in 2014," Silverbacks President Andy Smith said. "Between our 5-0 win over Chattanooga FC, the last-second winner when Real Salt Lake came to Atlanta and the win over the Colorado Rapids with eight men, Open Cup play is always incredible and we can't wait to see what happens in 2015."
The Silverbacks' third-round opponent will be determined by the results of the second-round matchups between USL PRO clubs and teams from various amateur leagues. An all-time high of 91 teams will play for the $250,000 prize this year: 17 from MLS, nine from NASL, 21 from USL PRO, 19 from PDL, 12 from NPSL, 11 from USASA, one from U.S. Club Soccer, and one from USSSA.
The NASL will be represented by all nine of its U.S.-based clubs while MLS clubs will begin Cup play in the fourth round on June 16 or 17.
"We're looking forward to the 2015 edition of the U.S. Open Cup," said NASL Commissioner Bill Peterson. "It's a very important competition for all of our players, coaches, and fans. We've stated that our collective goal is to win the tournament and maybe this year is the year. We had a great showing last year, with two teams making the quarterfinals, and hopefully even more teams reach that stage or go even further in 2015."
Also new to 2015, U.S. Soccer has implemented a new, geographically-based random draw to determine matches in the round of 16. The 16 fourth-round winners will be divided geographically (regardless of league affiliation) into groups of four and a random draw, scheduled for June 18, will determine the pairings within each group in the fifth round.
The Silverbacks open the NASL Spring Season on April 4 against the Indy Eleven at Atlanta Silverbacks Park. The club is offering a special Home Opener Gift Pack, which includes four general admission tickets for only $48 (savings of $32 from box office price) or four reserved tickets for only $68 (savings of $52 from the box office price). To purchase tickets, call the Silverbacks Ticket Office at 404-969-4900.