ATLANTA, GEORGIA—Goalkeeper Vicente Reyes and midfielder Tristan Trager were both selected to the USL Championship Team of the Week in Week 31 following outstanding outings for Atlanta United 2 on the road. After falling behind 1-0, ATL UTD 2 rallied to overcome LA Galaxy II 3-1, scoring their three goals after the 75th minute.
Trager scored the first two, giving him his third game with two or more goals and his second brace of the year. After joining the squad in June, the MLS SuperDraft selection increased his goal total to eight goals for the year while also creating two chances. The 23-year-old, who was voted USL Player of the Week for Week 17 back in July, has received two Team of the Week awards.
Reyes, 18 years old, was named to the Team of the Week for the first time this year.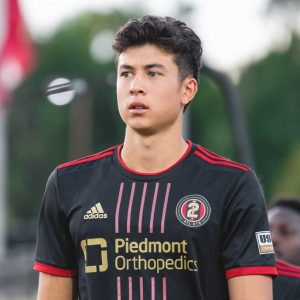 For the third time this year, the Chilean youth international made 10 saves while consistently keeping ATL UTD 2 in the game.
Reyes returned to the team for the first time on Saturday after traveling to Spain late last month to compete in the Costa Cálida Supercup with the Chile U-20s, where he made headlines with some impressive displays. On Saturday, October 15, ATL UTD 2 will play their final away game of 2022 against Phoenix Rising. ESPN+ will broadcast the Wild Horse Pass Stadium kickoff at 10:30 p.m. ET.