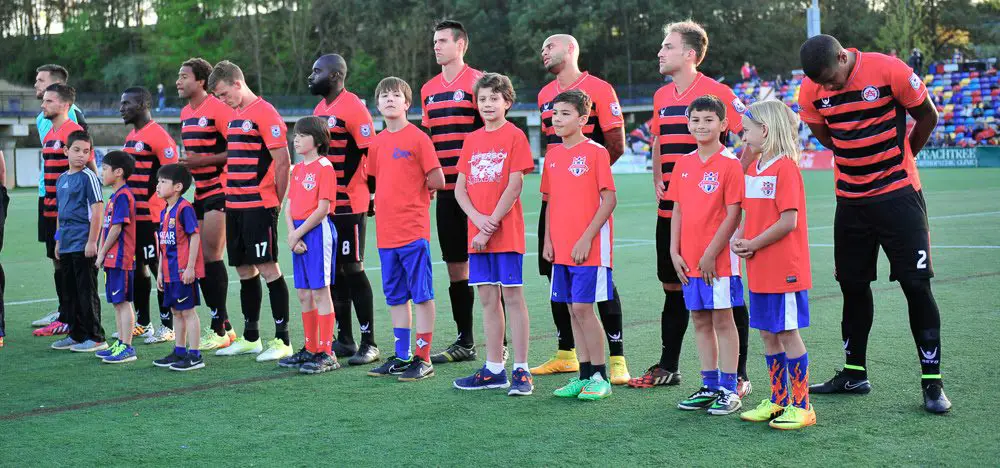 Ready for More
Silverbacks Welcome Ottawa for Match Day 2 Showdown
ATLANTA – With the Spring Season opener fully in the rear-view mirror after a full week on the training ground, the Atlanta Silverbacks move on to face Ottawa Fury FC on Saturday night as the young NASL term rolls on.
Nine starters – every midfielder, defender and goalkeeper C.J. Cochran – made competitive debuts for the Silverbacks in their 1-1 draw against Indy Eleven, along with second-half substitute Fabrice Gautrat. Only forwards Matt Horth and goalscorer Shaka Bangura appeared having any prior experience playing for Atlanta, which also formally broke in new head coach Gary Smith for his first NASL regular season.
While Smith and his Atlanta squad enter the second match day of the NASL season against an Ottawa side that also dropped opening weekend points, let's take a look toward Saturday night and also the week that was for the Silverbacks.
Atlanta Silverbacks (0-0-1)
vs.
Ottawa Fury FC (0-1-0)
WHAT TO WATCH FOR:
1. Reed and Oppong vs. Fury in center of the park
Atlanta midfielders Michael Reed and Dominic Oppong will likely be outnumbered in the middle of the field Saturday night, though that doesn't mean they will automatically lose the head-to-head battle with their Ottawa counterparts, who will be missing Canadian international Julian de Guzman due to suspension. The Silverbacks' pair will need some sort of help, however, whether through a withdrawn attacker like Hans Denissen, a forward like Horth or Bangura dropping deep for assistance, or even wide players Porter and Okafor coming in-field while in possession.
Lining up in a 4-3-3 against Carolina, De Guzman, Patryk Misik, and repurposed defender Drew Beckie featuring as the midfield three in the face of lingering suspensions and nagging injuries. Midfielders Nicki Paterson and Mauro Eustaquio will be eligible against the Silverbacks after completing carried-over suspensions, but Richie Ryan and Sinisa Ubiparipovic have yet to reach full fitness. It's still not a full-strength Ottawa side, especially when considering De Guzman's suspension. An offseason signing for the Fury, the former MLS player made his presence known early in the Ottawa side, and his contribution as a holding midfielder will be greatly missed by the visitors as midfield battles play out.
2. Atlanta's shape in attack
With such variance in attacking possibilities, the Silverbacks' formation could – and will, in all likelihood – look entirely different on a game-to-game basis. Shaka Bangura started against Indy, playing in a much different fashion than Hans Denissen would have if he'd started. After scoring in the opener, it'd be tough to leave Bangura out, but there are legitimate arguments for nearly every permutation of forward combination.
At this point, the only sure thing seems to be that one of the bigger strikers, Horth or Chavez, will take at least one place up front. A Denissen start would suggest a concerted effort to control midfield, but another Bangura selection brings a lot of pace to the side.
3. Converting set pieces
In the Indy match, the Silverbacks earned five corners and 16 free kicks, many of which were in threatening positions. Only Bangura's quick finish from failed Indy attempts to clear a Porter free kick resulted in anything tangible, though. Porter and full back Paul Black sent in some dangerous deliveries, and capitalizing on dead-ball opportunities is always a quick way to change games. Considering Atlanta's height advantage – eight outfield starters against Indy were at least 6-feet tall – consistent set-piece success is certainly something within reach of the Silverbacks.
Mensing named to NASL Team of the Week
Silverbacks captain Simon Mensing was able to take some national recognition from his Silverbacks and American debut, receiving NASL Team of the Week honors for his role in Atlanta's 1-1 draw to open the Spring Season. Joining fellow central defender Rauwshan McKenzie and full backs Paul Black and Kyle Miller, the brand-new Silverbacks defense didn't allow a single goal from open play, an achievement that often eluded last year's edition. Indy's late equalizer forced the Silverbacks to settle for one, but it was still a promising Atlanta debut for the experienced defensive quartet.
The league took notice in Mensing's performance at the heart of the unit, placing the 32-year-old on his first NASL Team of the Week. Mensing called the selection a "delight" and an "honor," and for more reaction from Atlanta's skipper on the Team of the Week and Indy match, check out the story announcing his selection.
Shaka Bangura highlighted in NASL.com Q&A
Bangura also got some shine on the NASL site this week in the form of a Q&A that ran Friday morning, in which he talks about playing on the first team to defeat one of Major League Soccer's marquee clubs at their sparkling new facility. The forward mostly kept it short and sweet, but he also revealed the two sports besides soccer he likes most and the extremely vital information of which gaming system he prefers.
#OkaShorts catches on
Jon Okafor's strong play on the pitch may be what earned him a place in the starting lineup, but it was a match-day fashion decision that carried into this week on social media. His rolled-up uniform shorts sparked a Twitter hashtag, #OkaShorts, that received social media memes and mentions all the way from Matt Horth, to supporters' groups like Terminus Legion and even to the NASL's official account. Rumors of jean shorts-clad Atlanta fans even popped up in response to some Tweets on the topic. "If you feel good, you play good," Deion Sanders once said, so anything goes in the name of on-field comfort, even if it results in fans showing up to Silverbacks Park wearing short-shorts en masse.
Former Silverbacks return with Fury
Two former Silverbacks–defender Mike Randolph and midfielder Brandon Poltronieri–joined Ottawa within the past year and will make their Silverbacks Park return Saturday night. Randolph, who captained the Atlanta side for parts of his three-year tenure, started at left back against Carolina; Poltronieri scored a late consolation goal as a second-half substitute in the 3-1 loss.
Soccer ATL caught up with Randolph for an interview this week, and the defender told Sean Yancy he was "Looking forward to seeing [Silverbacks fans] this weekend," along with mentioning how he was practicing a couple languages in his diverse new city. A warm welcome from Silverbacks fans to both Randolph and Poltronieri would be no surprise Saturday night.
Coming Up (Click 'em all!)
Enter to win at trip with the Silverbacks