125 adults participated in the 3rd Atlanta Champions League at Grady High School Stadium on May 5th, enjoying a four-hour sunny spell during the wettest weekend of 2013.
The law firm Greenberg Traurig was our major sponsor as 8 teams representing major European clubs battled to win trophies for raising the most money and winning the 7v7 tournament.
First-time entrant Paris St. Germain deservedly beat Manchester United in the final. Liverpool players won prizes for having raised more than $7,000 as a team.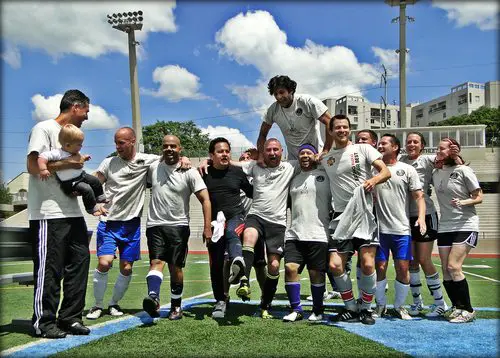 As usual, the proceedings were overseen by our excellent commentator and master of ceremonies John Curran and the after-party continued across the street at Park Tavern.
Thank you to all of the participants and to the sponsors who contributed to us exceeding our expectations and raising over $39,000 from the event.  Sponsors also included PM Publicidad, The Brewhouse Café, Meehans Downtown, Sun Microstamping, La Grotta Restaurant, RiRa, Midway Pub, realtor AtlantaBen, and chiropractor Back-to-Basics.
Thank you also to board member Bill Ford who chaired the event committee. We now look forward to our 5th annual Black Tie Soccer Game, also at Grady Stadium on Sunday October 6th.