ATLANTA, GEORGIA—On the evening of December 22, 2021, the Atlanta Rovers FC and the Atlanta Soccer Community lost long-time player, coach, and Rovers board member Darren Kaplan to cancer. The much-loved husband, father, son, and brother died peacefully in hospice. 
The funeral was held at Arlington Memorial Park in Sandy Springs on Friday morning the 24th and was well attended by family, friends, and his teammates. He leaves a loving wife,  Amara, and his two daughters, Ava and Anya.
The funeral was an emotional journey narrated by his long-time schoolmate and his business partner at CL!X Studios, David Kapper. They confirmed the part of Darren which we, in the soccer community, knew from the many post-training sessions at Ralphs and Taco Mac. We got to know about the corny sense of humor and his out-of-this-world memory that his partner also recalled. We knew better than to argue trivia and sports stats with Darren.
Darren was an integral part of the development of the Atlanta Rovers Football Club and served as a key member of the board of directors. He was Player Coach for 2 Rovers teams in the Cobb Adult Soccer League: Rovers Orange.
"Tonight the Atlanta Rovers Family mourns the loss of Darren. With our heavy hearts, we stand along with his family and friends to celebrate his life. He brought much joy to many and will be memorialized by the Rovers and the Atlanta Soccer Community" said Edwin Hoenderdos, President of the Atlanta Rovers Football Club.
His players on the Rovers Orange were noticeably shaken and in a state of disbelief.  Many Rovers got together at Hudson Grill to toast Darren and remember his impact on our lives. They plan to memorialize Darren with a tournament. In recounting times with Darren, some of the players had a hard time expressing their feelings. However, his aunt said what others were feeling. 
"Darren packed a lot of goodness into his limited years
Perhaps he did 90 years of good deeds in his 49 years
But that does not seem an adequate reason for taking him so soon
Darren was a natural nurturer—he so gently cared for Amara when she struggled long and hard with cancer.
He has been a kind and involved father— spending time with his daughters and with their activities…  I recall that he insisted on attending despite work pressures that also demanded his time.
We hope there is some grand eternal plan that required an unusually fine and kind man 
In heaven to perform important world-changing events.
But perhaps we should also acknowledge that we on earth have lost a dearly loved man: a man we admired and respected. A man who sweetened the world with gentleness."  
On Dec 26, The Soccer Community got together to celebrate Darren's life with a kick, a moment of silence, and people recounting Darren's life. Over 100 people came to Roswell Area Park to send off Darren to the great soccer pitch in the sky.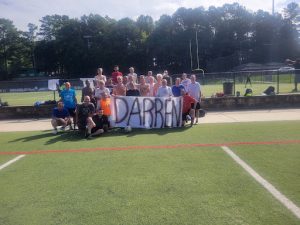 The following are thoughts and words from people in our community
From CL!X Studios
It is with heavy hearts that we at CL!X announce the passing of Darren Kaplan, as he succumbed to his battle with cancer with his family by his side. Darren was known to CL!X as founder, business partner, photographer, mentor, and friend; he will be sorely missed by those in our extended family who had the opportunity to work with him. Be assured that CL!X remains committed to the quality photographic service standards that Darren helped establish. We ask that you keep his family in your thoughts & prayers and make any donations to The Frazer Center by visiting https://www.frazercenter.org/
More information and a portal to message the family can be found at: https://dresslerjewishfunerals.com/guestbook-details/?funeralID=1558
It is with a heavy heart that we announce the passing of our husband, father, son, brother, and friend, Darren Kaplan, on the evening of December 22. Darren is survived by his wife, Amara, children Ava and Anya, his parents, Richard and Marcia, and his sister, Neely. 
RIP Darren! He was such a nice dude… always cheerful and In a good mood with always a big smile….kickarounds ain't the same without him…this is unfortunate. I remember Darren showing up early and excited to be kicking around with us….always had a smile no matter what the score was and was such a gentleman and always friendly to the group no matter what. Darren will truly be missed and I'll always remember his compassion towards myself and everyone in the group….My condolences to his family, his memory and kindness will live on forever and all the positive impact he brought to everyone who knew Darren! 
-Chahine Ferrani
RIP Darren. 
–AKI AKIWUMI
My warm thoughts and prayers to Darren's family. 
Victoria Monasterolo
Really sad news guys, so sorry for the loss. Best wishes to his family. I know he will be sorely missed by a lot of people. 
Patrick McManus
This is very hard to take in. Darren was one of the first few people that helped me get to know the Randoms when I first moved to Georgia. Back in the noonday days. I'm very grateful to have met Darren and for everything he has done for me, the Rovers soccer club, and his family.
 Unfortunately, I'm currently flying out of town and will be back Monday so I will not be able to attend. Prayers to Darren and his loved ones! Kickass up there Darren and score a few for me!!
-Jonathan Duarte
I remember always laughing with Darren before our kickarounds or even back when I was in the league. Always had a great sense of humor and even though he wasn't the fastest or the greatest skilled player, you can tell he always has fun. But I remember one game where he scored a hat trick in quick succession and you can tell how happy it made him from the smile on his face. He was a great friend on the field and I'm sure a great father and friend off the field. We'll miss his spirit, positivity, and humor in the field
-David Cedeno
Darren "the magic left foot" Kaplan!
-Very patient, great attitude!…and part of the scene for 10 years…our friend!
Remember the first time I played w Darren at RAP!…someone We will miss out there on the field. 
-Rob Murray   Stone Mtn.
 I did not know Darren but he is part of our soccer family so to Darren you fought a good fight, you did not lose to cancer, bcuz your legacy will live on, RIP bro.
–Samuel Roberts 
I don't really remember where I met Darren. Like a lot of things in the soccer community after a while it seems like they've always been there:  Tuesday, Thursday pickups, Rovers, Noonday, who can say where it started… it just is. I played with Darren for years on Rover's Orange in Cobb, in the Pope League, and about a million pickups. One thing that I uncovered only after we got closer is he usually had one to two 'scholarship players' on his teams. Usually, a college student wouldn't be able to play because they couldn't swing the fees. Those were quietly taken care of. At some point, I learned of the Jewish concept of a Mitzvah, which I translate to something like a 'good deed'. He was the king of the mitzvah, often only visible if you paid attention. It's one of the things I liked most about him. I'll miss that. I remember his passion – a ready laugh, a child-like almost-giggle that was never far away, a passion for his team, a goal, a win. I think there are a few referees who also recall his passion :). Always ready for soccer, friends, community, and a friendly beer afterward. I'll miss him.
-Eric Winter
I've known Darren for many years, first meeting him during CASL games.  We played against his team often and when I became a team manager, he and I always seemed to be on the same page regarding league issues.  What always stood out from Darren was his kindness, selflessness, and sharp, self-deprecating humor.  Not only was he a team manager, captain, and player, but he volunteered as a field marshal, always ready and willing to help in any capacity needed.  I remember that random game when he scored a hat trick and how his smile of happiness and bemusement lit up the pitch.  Whether it was a CASL game with his Rovers Orange, a MUSL 7-a-side game, or during the random group pick-up games, he was always first to volunteer to play in goal if a team needed a goalkeeper, with no caveats, with no favors called in.  He just put on his gloves and played goalkeeper so that the game would be a good one.
He always made time for people and he listened.  He really listened.  Win, lose, or draw, he made time to chat before and after games.  He was empathetic and understanding.  He always put others first.  The last time I saw him, it must've been shortly after his diagnosis.  In typical Darren fashion, he didn't talk about himself (I had any idea he had cancer) but asked me how I thought my team was looking for the new season.  When I was regularly playing with the randoms (before work travel and injuries took hold), I had the chance to go for a few beers with Darren several times after our games.  I cherish those memories.  He was always funny, centered, calm, intelligent, witty, and understanding.
He touched so many people's lives.  You became a better person by being around him, by speaking with him.  He gave so much of himself and I truly think that we will all carry a piece of Darren with us in our hearts.  He was a fixture in the Atlanta soccer community and although the word is used too often and inappropriately, Darren really was a legend.  Damn, we will miss him.  May you Rest In Peace, Darren.  You made the most of your short time on Earth and you made a difference.  The impact you've had on so many people will go on forever.
-Michel Cowdery
I think it goes without saying that Darren touched many different people's lives from his family to his work to his soccer world. I met Darren four and a half years ago when I had someone convince me to come out and play soccer at the age of 30, even though I had never played the sport a day in my life. That night, I played in a scrimmage not knowing what I was doing, and even though I was new, Darren encouraged me to join the team he was building afterward. From that point forward, I probably saw Darren at least once a week ever since. Throughout those years, Darren has always been a friend to me, both on and off the pitch. He was always encouraging and inspiring, and if it weren't for Darren, I would have probably stopped playing very shortly after I started. He was always there for anyone who needed him. He took precious time out of his life to building something that people could go out and have fun playing even through life's toughest times. Whether it was supporting his players/teammates, doing all the unrecognized work to make multiple soccer teams run smoothly, or just being there to talk if you needed it, Darren was that guy. Many nights after our games, we would enjoy a beer together, and I will cherish those times forever. Once Darren was diagnosed with cancer, he asked me to help run his teams through CASL, and I was honored because that told me he saw my dedication which was inspired by his. I will forever be sad that we didn't get to play another game together from that time, but I will forever be grateful for his friendship and guidance above all else. The last time I saw Darren was about 3 months ago while he was doing treatment, and I went over to his house to watch an Atlanta United game together because no matter how much I offered to help in those tough times, he only requested that he have someone to watch a game with. Atlanta won that game, and it put a smile on his face, one I will never forget. May he rest in peace, and may his light shine down on each and every one of the people lucky enough to have met him.
1-John Speros
We had a lot of players gravitating towards us because of our success on the field and our camaraderie off the field. So we needed to find another team for these players and Rovers Orange was born.20 years ago or so we had the RoverFC team playing in CARSL, as it was called in those days.  Rick Skirvin had started Rovers in 1995 and by the time it was early 2000's we had Rovers Red and Rovers White.
But every team needs a manager, captain, and or coach, and Darren was the one who immediately stepped forward to take that "enviable" task. We had a club meeting at Los Arcos and Darren and his wife Amara was there, they donated money to the club to make sure we would be successful.
Darren did not only commit financially but also put in hours of his time to grow the Rovers Club and adult soccer in the area. He invited players to come and play even if they were not soccer players by nature. He loved the game and promoted it selflessly.
He greatly cared for the CASL league and assisted where he could. People like Darren never put themselves first they gave whenever they could. 
In later years we had Rovers' teams migrate to the senior leagues in Roswell. But Darren made sure we had many Rovers teams in CASL. He was such an advocate for the game. 
A year and a half ago we started our semi-pro team, currently playing in UPSL, at the first try-out I and Quique had 60 potential players come out, and who was there right away to help us make sure it would be a success, Darren.
He helped with recruiting players, working the try-outs and practices and once the team was formed he made sure there were training kits for the guys. He showed up at the games, camera in hand, and helping where he could.
You could always see the passion in his eyes. He always smiled and had a good word for all of us.
I read some of the other memories and fully agree that he is/was a special person, his family will miss him tremendously, his friends will miss him tremendously and the soccer community will miss him tremendously.
May he rest in peace but he will never be forgotten.
Edwin Hoenderdos
RIP Darren…
Darren was a true friend, the type of friend we should all aspire to be.