ATLANTA, GEORGIA—To all aspiring professional soccer players in this side of the United States, it's time to make your dream a reality.
Please attend the affordable upcoming Winter National Pro ID Camps in Atlanta, GA on December 13-14, 2021 from 9:30 am to 1 pm.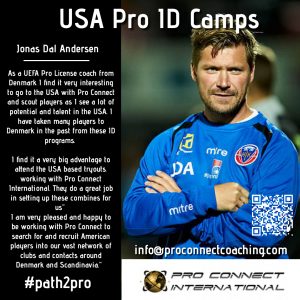 This soccer and scouting camp organized by Pro Connect International will surely make your professional soccer dream a reality.Pro Connect International is a world-class soccer player development program that helps bridge the gap for all players in the United States and Europe by providing a global platform and pathway into the professional game through our identification scouting camps and programs.
This soccer training and scouting camp will give you the needed training and exposure since five of the top European coaches and scouts will facilitate it.
The five coaches and scouts who will handle the two-day camp are Ulrik Balling, Jonas Dal Andersen, Marti Thompsen, Giorgos Tambakis, and Jordi Gomez.
The must-attend training is open to all aspiring and passionate soccer players ages 17 and above who want to play professionally either in the US or Europe. If you want to get scouted and earn a trial by real professional coaches and scouts from Denmark and Spain, then joining this camp is the perfect vehicle for you.For an affordable fee, this camp offers two days/ 8 hours of world-class training.
With passion and determination, those who will excel in the camp will have a huge chance of playing potentially being selected to join our Major League Soccer and United Soccer League agency.
Also, top players will be offered the chance to attend our Elite Showcase tour to Valencia, Spain with other nationally selected players for top UEFA PRO LICENSE level training and 3-4 matches against various Spanish football clubs with Spanish scouts from Villarreal FC, Alaves FC, Valencia FC, and Castellon FC will be present to observe games.
If you want to get ahead of the other camp attendees you can also be part of our Pro Connect Master coach mentoring program.
This is a 6-month membership you'll get everything from technical, tactical advice to nutritional and physical development programs. Those who are aching to play soccer professionally should take this ID program now since it only offers 40 spots limited.
The training program is also fully supported by your well-loved homegrown soccer website Atlantasoccernews.com.
For early registrants, you just need to pay $125 to join our camp and $160 for late registrants.
Get seen, get scouted sign up now!
To learn more about the camp just visit https://www.proconnectcoaching.com/mens-pro-id now.
For questions contact us at info@proconnectcoaching.com +1.612.205.1091.