ATLANTA, GEORGIA—The dream of United Premier Soccer League (UPSL) Georgia Division Summer Regional Cup champion Atlanta Rovers FC to win back-to-back titles is rousing. Rovers FC got its third straight win without any defeat on September 18 at the Southern Crescent Stadium in Riverdale after they demolished SEA Jamaica All-Stars 4-0.
Rovers FC started the scoring before the first half ended with a header on 42.29 seconds in the game. In the second half, Rovers' main striker Alejandro Rodriguez scored two goals in the 55th and 79th minutes of the game. The other goal in the second half was scored in the 65th minute.
Earlier, Atlanta Rovers FC Reserves eked out a 4-4 draw against Middle Georgia United FC in the same venue in the UPSL Georgia Divison 1.
Last August 14, at around 7 in the evening, the home team, Atlanta Rovers FC, beat the visiting Kalonji Pro-Profile 3-1 to win the coveted 2022 UPSL Georgia Summer Regional Cup at the South Gwinnett Park Stadium. The three winning goals of Atlanta Rovers FC were provided by Chris Duron, Alejandro Rodriguez, and Luke Sexton. Atlanta Rovers FC Coach AB Aloui is very happy with the first UPSL crown of the team. In the previous meetings of the two soccer clubs, Kalonji always had the advantage in the end.
Still, this time, Rovers FC has something up its sleeves that gives them a winning edge against their favored opponent, who was represented by their U-23 team. Rovers FC got the championship slot after beating SEAS Jamaica All-Stars 2-1 in their semifinal duel at the South Gwinnett Park Stadium at 8 in the evening last July 30.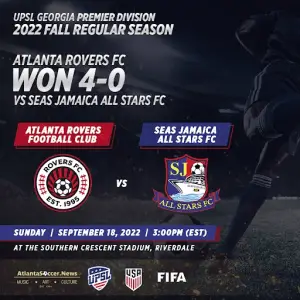 Bates and Sexton provided the goals for Rovers in their win. Kalonji got the slot for the championship after they beat Potros FC 2-1 in the other semifinal duel. The UPSL is an American professional development soccer league founded in Santa Ana, California.