ATLANTA, GEORGIA—The local soccer community here is mourning the recent death of Richard "Rick" Scott Johnson, a well-loved member of our soccer family who died last November 19, 2021, in Miramar Beach, Florida.
Before his untimely death, Johnson has captured the heart of soccer-loving souls in this side of the United States because of his deep passion for the sport of soccer.
He spends much of his time playing here and interacting with the soccer community.
During his childhood years, Johnson developed what proved to be a lifelong love of soccer, to which he excelled. He played in his youth successfully earning regional All-American honors at Scotch Plains/Fanwood high school. After high school, he continued his soccer career at the University of North Carolina – Greensboro where he won a soccer national championship in 1987 and was a national championship runner-up in 1989.
As a tribute and honor to his contribution to our soccer community, the family of Johnson is one of the beneficiaries of the annual soccer fundraiser 2021 Father Christmas Cup scheduled on December 11 at the Atlanta Silverbacks Park.
Since it was conceptualized one of the main goals of the widely popular soccer fundraiser is to provide comfort and financial support for local Atlanta families that will be missing a parent for the first time over the holiday period.
With his death, Johnson left behind his loving wife Madelaine; his daughters, Gabriella Johnson and Lydia Johnson-Cook; his stepsons, Harrison McCrorie and Ryan McCrorie; his parents, Bill and Sue Johnson of Scottsdale, AZ, his sister and brother in law, Tracy Johnson and Steve Furr; nephews, Ryan Furr-Johnson and Ben Furr-Johnson; niece, Sage Furr-Johnson, all of Golden, CO; and numerous aunts, uncles, and cousins.
The organizers of the 2021 Father Christmas Cup want to ease the pain of the family left behind by Johnson by offering them comfort and some financial aid from this widely popular soccer fundraiser.
Aside from the financial assistance, Johnson and other deceased members of our soccer community will also be honored at the Memorial ceremony at 11.30 in the morning in the presence of their families.
This year's Father Christmas Cup is being supported by the Atlanta United Foundation.
The United Foundation is a platinum sponsor of the annual soccer fundraiser held each December.
Aside from fun and games, the event will also memorialize those active in our soccer community that has passed within the previous 12 months.
The Atlanta Silverbacks organization has been a long-time sponsor of the event, generously donating
field space to host both a youth and adult soccer tournament.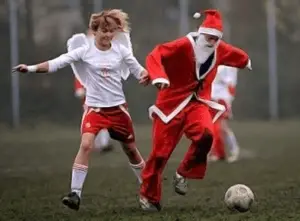 Since this worthwhile event began, funds are generated from player participation donations, a sponsored player shirt, raffle proceeds, private donations made through the Father Christmas Cup website, and donations on the day of the event itself.
Those who wish to donate for the family of Johnson can send it by visiting the Father Christmas Cup website at https://www.fxcup.org/.