Georgia soccer coach Steve Holeman goes for 200th career win Friday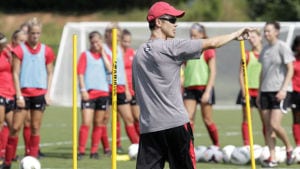 Sammy O'Brien | 0 comments
Georgia soccer head coach Steve Holeman needs only one more victory to reach 200 wins in his career. Holeman, who has a career record of 199-149-39 in 19 seasons, has the opportunity to do so at home this Friday against Jacksonville University.
"It would be special because that's our next game," said Holeman. "If our next game was on the road, then I'd want that next game to be a win because it's another win for the team."
Holeman's milestone started way back at Auburn in 1993. His first career coaching job ended in a winning season (7-6-3), and the success didn't stop there.
Starting in 1995, Holeman spent the next 15 years of his coaching career at Ole Miss, continuing his win steak. In his last five seasons with the Rebels, Holeman went 19-1-5 in the SEC West conference. He ended his tenure at Ole Miss with a final record of 116-89-14.
Over Holeman's 116 wins at Ole Miss, a few stand out.
"There are certainly a handful of them," said Holeman. "Going back to my days at Ole Miss, we knocked off the University of Florida a couple times, we beat Texas in the first round of the NCAA Tournament. At Ole Miss we won some SEC West titles. I don't know if there's one in particular. I'm fortunate enough to have a handful of wins that standout."
At Ole Miss, Holeman carried his team to the NCAA Tournament four times. The Rebels also won three SEC West Division Titles, as well as an appearance in the 1999 SEC Final. Holeman has now reached the SEC Tournament 14 straight seasons dating back to Ole Miss, and continuing the steak into this season at Georgia.
Holeman began his Georgia career in 2010 with a 165-124-31 from his time at Aburn and Ole Miss. In his first season in Athens he posted a 11-6-4 record.
Before the start of the 2012 season, Holeman placed 47th on the all time Division 1 head coaching victories with a minimum of five years experience. Now, Holeman humbly awaits the big 200.
"To be honest, I don't even think about it," Holeman said. "I didn't even realize it until someone brought it up during preseason. That's certainly not my focus. We just want to win games. It's all about the team and the University of Georgia. So, that's fantastic, it shows longevity, I'm fortunate enough to be coaching long enough to get to that milestone. I'm happy to be coaching at Georgia."
Holeman had the potential to reach his milestone last year, however the season was marred by injuries. The team only managed to accumulate seven wins all year. However, this year is different. The Bulldogs already maintain a 3-1 record, and Holeman remains one win shy of 200.
"I think it'll be huge for him," said senior forward Madeline Barker. "It's been a long time coming. We thought we were going to get it last season and we didn't. I think it'll mean a lot to him especially with this group. We have a special team and I'm excited for him. It's a career milestone and hopefully we'll get it on Friday for him."
Even though Holeman remains humble, his team and fans can't contain their excitement. Holeman and the Bulldogs will attempt to reach the milestone against Jacksonville Friday night at 7 p.m. in Athens.