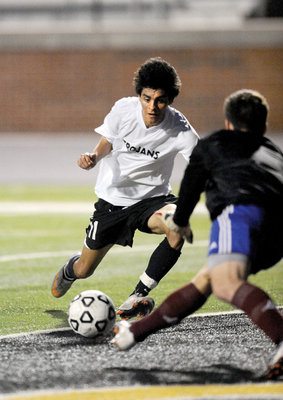 For just over 46 minutes, the Carrollton High School boys soccer team was held off the scoreboard, but Juan Vargas and Homero Perez helped push the Trojans through to the second round of the Class AAA playoffs, as they survived Grady, 2-1, Tuesday night at Grisham Stadium.
"That's what playoffs are all about," Carrollton coach Scott New said. "You've got a four seed that's 12-4 and they took the No. 1 seed and gave them all they wanted. We knew they were going o be a well-prepared team. We knew they were going to be a good team."
In the first half, the ninth-ranked and top-seeded Trojans (10-5-3) found the back of the net twice, but both goals were disallowed before Asa Eggleston put Grady up 1-0 after he weaved in the box and his shot deflected through for the goal.
Carrollton would seemingly answer on two different occasions, but both times the goals were called off for fouls in the box, keeping the Trojans off the board. And several scoring opportunities seemed to go just wide, high or a Grey Knight defender would be able to make the play.
"We just couldn't seem to find the back of the net. It seemed like we had chance after chance after chance and couldn't get them to go down. Then finally in the second half, finally, the work paid off. Our work rate was good and we deserved more, but we just couldn't seem to find the back of the net for anything and when we did, we seemed to have an offsides call or a foul or something go wrong. Those are the kinds of games that scare you, because you have the opportunities, but you keep missing them," New said.
Just over six minutes into the second half the Trojans finally got a goal that counted from Vargas — who has had a knack for getting goals in big games this season — as Trey Camp flicked it to the goal scorer and Vargas calmly slotted it home for the 1-1 tie.
"We continued to fight, we continued to go hard to goal and that's the sign of a team that belongs here and can do well," New said. "That's what we talked about at halftime. [Grady] had the one really good chance, that I could remember, and they made it happen. We probably had five or six that just didn't go … Juan beats his guy, finally gets free and Juan's finished all year for us. He's gotten the big goals in just about every game, so I just kind of expect it by now and that one was huge for us."
Three minutes later, Carrollton seemed to take the lead after Camp scored from just outside the goal line, but was judged to be offsides by the linesman and the game remained 1-1.
The game over the next 25 minutes got tense and physical with both teams picking up fouls and yellow cards, as Carrollton continued to have chances to score, but couldn't quite get a goal.
"It was an emotional one. That's what playoff soccer is all about," New said.
That changed with 5:26 left in the game when Tyler Edwards' throw bounced around in the box before landing at the feet of Perez and the Trojan captain did not miss, giving Carrollton the lead and the win.
"Homero, the kid's been our two-time MVP for us. He's always right there and delivers for us and he decided that he wasn't going to be denied this time. He found one, cleaned it up off the rebounds and finally got one in the back of the net. It was a great win," New said.
New understood coming into the game that Grady would be a tough game — especially from a No. 4 seed — and now Carrollton will await the winner of No. 2 Spalding and No. 3 Westside, Augusta on Thursday to see who it will host back at Grisham Stadium next week.
"We'll be keeping an eye on that game and I'll probably check it out, as well. I think you've got to feel good. I think the team we played [Tuesday] was a fantastic team and we'll see what comes in here next Tuesday. We're happy to win. An ugly win's a win and a great win's a win — they're all wins right now," New said.
Read more:Times-Georgian – Trojans survive first round scare