Tragedy demonstrates the Life of our Soccer Community
Tragedy hit our Soccer Community when Kenny Palmer, one our most well-known and liked members, died in March this year. It seems that the unexpected passing of people in our community is bringing us closer together and demonstrating that the soccer community in Georgia is, in fact, a true community in every definition of the word "community". These tragedies make us take a step back and look at ourselves and our relationships that develop around the soccer lifestyle. These tragedies inspire our community to express, acknowledge and support the idea of a true community.
Last year Coach Jay Ingram passed when a car hit him while jogging near his home. This event shook the NASA family and all those in youth soccer. His death showed us how many people he touched directly and indirectly. People showed that he was truly loved and appreciated by the things he did on and off the field. The people at NASA and the soccer community immediately rallied around the family in support by establishing a fund to help his family and went on to make an annual 5k. NASA went on to acknowledge his impact, "Whether you knew Jay or not, the overwhelming outpouring of support following the sudden loss of such a great man is beyond description."
The first time I started to become aware of how tragedy in our community brings us together to acknowledge the idea that we truly are a community was when Chris Perrin, coach and player of the Genesis Soccer Club of the ADASL in the 80s died suddenly. As a team mate of his, I remember how sudden it was and how many people were moved by his life. The out pouring of love by the community was incredible. Today we remember and celebrate his life when the ADASL crowns a new champion in the Perrin Cup.
One of the ways the soccer community comes together in support of the families and in remembrance of our friends with the Father Christmas Cup. Steve O'Hare and others in the community, with the help of  the Atlanta Silverbacks, work every year to put an event together with the purpose of providing comfort and financial support to a family who will be experiencing their first holiday season without a father. The annual event shows the great generosity and community support from adult soccer players throughout Georgia.
Every year I go to the event, I get to see many of the people who year after year devote time to playing, coaching and supporting soccer in our community. I get to see my old friends, their families and the community come together to celebrate on of our own. I see this community as a force beyond the soccer field. It really becomes evident that although our friend is dead, our community is alive with their memory and appreciation.
Last month, when Kenny died, it again went to reinforce the idea that our community is alive. I was in awe by the amount of people from the soccer community who came to show support for the family. Again, I was able to see many from years past come in solidarity with Kenny in his family.  Again, teammates, rivals, referees, administrators, parents, again, were all there in support. Within a couple of days, Karon Beyer and others of CASL were making arrangements for a trust to help the family. There was even a tournament created in Kenny's Memory at CASL. Steve O'Hare was already making preparations for Father Christmas.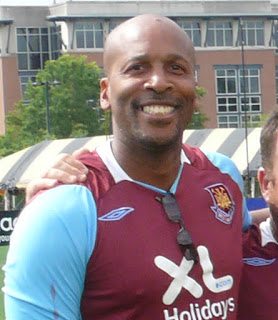 It is with much sorrow and joy when we reflect on our fallen friends and the impact they have had on all of us. Next time you are at a match, take a good look at your teammates, opponents, refs and supporters and be thankful for having the opportunity to be part of our Soccer Community.
The soccer community consists of all the people who played ADASL, CASL, Dekalb, Roswell league from the 70s to the present. It consists of their families and the circle of friends. It consists of all these past and present players who are now working in their community by supporting youth organizations like AYSA, NASA, TYSA, Concord and all the many clubs that have sprouted through Georgia as well as organizations like Georgia Soccer and Soccer in the Streets. It consists of their children who are now playing and their spouses who put up with them. It consists of the folks at the Silverbacks and the Beat as well as all Atlanta Chiefs, Ruckus and all the people involved in Georgia High School and College soccer. It consists all the corporate sponsors who support our endeavors. It consists of all the Pubs that have show soccer like the Brewhouse, Fado's, Rose and Crown and Churchill's. It consists of people from all races and many cultures. It is truly a multicultural community that serves as an example to the rest of society.
This is the latest information forwarded this morning.
Team – Ohana FC Thunder, former players and friends…….
If you have not already heard, Ken Palmer passed away last night after an apparent series of heart attacks.
We played at 5:00 p.m. game at Mudd Creek and Ken played most of the time up until about 25 minutes into the 2nd half. He was on the far side of the field when he asked to be subbed out. The guys yelled for me to get someone in and Ken just walked off on the far side and hunched over. He seemed tired and just sat up and stayed over there. Steve Bek was subbed out shortly after and sat with Ken for the rest of the game. He came back over to the team after the game and did not speak with me. He just grabbed his gear and went to the parking lot. I assumed that he had left. I asked Steve what was up with Ken and he said Ken had told him that he had shortness of breath. Well, apparently he had not made it out of the parking lot as some people noticed Ken sitting in his car and not moving. An Ambulance came and he apparently had a series of smaller heart attacks until what must have been a massive one at the Hospital. They could not resuscitate him the final time.
Kenny Palmer RIP