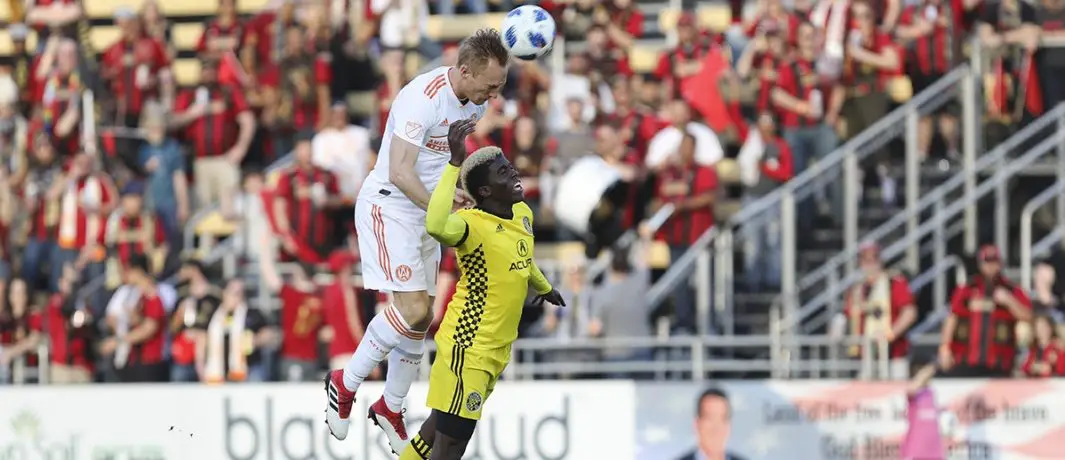 Match: Atlanta United vs Columbus Crew SC
Location: MUSC Health Stadium, Charleston, SC
Date: February 17, 2017
Tata Martino – Atlanta United manager
On why things didn't work out for the team tonight
If you remember, last preseason, against the same team, the same thing happened to us. We just need more time together. This is almost our first official game of the preseason, and it just so happens that we were up against a very good team in Columbus. But from my perspective there were a lot of positive things that we did tonight. There were also some negative things we have to improve on, especially if we're playing a good team like Columbus. But we're doing okay.
On the positives for the team:
First of all, we pressed very well for long periods against one of the best teams in the league at getting out of the press. Secondly, we maintained our intensity for the full 90 minutes. Thirdly, even though were down 2-0 on the scoresheet, in the second half we didn't allow them to create any chances. We know we have a team with a lot of quality attacking players, but when you look back at the game and at the chances they created or didn't create, their goals came off of our own mistakes tonight. So that's the summary of the positive things. But also looking back at the game, we created chances where we weren't able to finish or we were missing the final pass. So we know that we created a lot of chances, but we just couldn't finish those tonight.
On the importance of defending long passes:
The second goal was a collective error on our part off a set piece, where we made a collective mistake and they were able to capitalize. The four guys who had to defend on that play didn't fall back correctly. Guys need to fill in for other players who were attacking forward. On that play, both center backs and the holding midfielder were up attacking, so we didn't have guys rotating back.
On covering the goalposts on corner kicks:
Last year Garza, or today Mikey, was on the front post. Josef is covering the space in front of goal, but no one on the back post. Tonight's goal was just a coincidence, a fluke goal where Josef happened to flick it in.
Biggest thing to improve:
What we should work on is capitalizing on our chances in the final third of the field. There were a number of occasions tonight where we got into the final third of the field but we need to work on making the right final pass or the right decision to solve that area.
On the performance of Nagbe and Barco:
Yes. They're both growing. Barco is getting his fitness up. Today he got a lot of minutes, about 80 minutes, which is important. So they're both progressing.
Leandro González Pirez – Atlanta United defender
On Columbus's goals
For the second goa, we were attacking and Miguel shot the ball, we didn't come back well and they started a counter attack and they scored. Brad was high for the long balls and it was a good goal for Cristian Martinez. On the first goal, we lost two difficult balls and they make a good play for their side and made a nice finish.
On preparing for Minnesota on Wednesday:
We have to keep progressing, little by little. It's just the second game of the preseason, and we're just getting started. The preseason so far was mostly based around physical training. We're just starting to get into more stuff with the ball so I think we'll be fine.
On fatigue:
We are tired, it is normal. It is the first real game against MLS teams. But we are good, and finished well, only tired.
Julian Gressel – Atlanta United midfielder
On what went wrong for the team:
"You can tell that it's still early for us. We haven't played too many games and those games help a lot just to move in the right direction and move forward, take the next step and those little thing will come."
On what the next step is heading into the season:
"I think obviously now we have to get into a rhythm where we want to win games. So having winning mentality, we want to win. To concede goals like we did is not a good thing. So we want to stop that, be compact defensively and we want to score a few more goals as well. So it's about finding a balance between defending compact, maintaining our press, and maybe stealing balls a little further up field and having a shorter ways to goal. But I think ultimately it's a result-driven game and we want to win the game come the first game against Houston. So that's what we want to focus on now I think, take the next step in that direction. I'm sure there are more technical things that Tata sees and he'll probably comment on that."
On how opponents have pressured them defensively:
"It's good that we have opponents that press us high, that can go the 90 minutes as well and don't fall apart like maybe Nashville did a little bit. It's a good test and it gets us ready for the season. We'll be ready and those games will help us moving forward."