Atlanta Silverbacks driving towards league title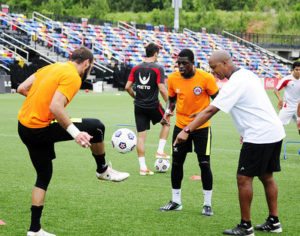 On an overcast Wednesday afternoon, the members of the men's soccer squad Atlanta Silverbacks FC practiced set pieces under the guidance of head coach Brian Haynes, striving to win its league for the first time in franchise history. With the assistance of new ownership, advisement from United States men's soccer legend Eric Wynalda and a rising crop of young players, Atlanta's drought of a professional sports championship may end brightly on the pitch.
The Silverbacks currently sit tied for second in the standings within the North American Soccer League (NASL), recognized as a Division II Professional League by US Soccer, placing it only below Major League Soccer (MLS) in hierarchy. Atlanta has been led since 2012 by Haynes, the Trinidad native who began his professional soccer career with the indoor squad, the Atlanta Attack, in 1989 and resided in the city for two years before embarking on a lengthy professional career, including a multi-year stint with the Dallas Burn of MLS.
"It's been awesome returning to Atlanta," said Haynes. "It feels like full circle for me because I still have people come up to me now who were fans of mine when I was on the Attack. Now I get to lead young players to the next level in a great city."
Atlanta Silverbacks FC itself has a long history in Georgia as the team was founded in 1998 and has played in DeKalb County since 2003. The team's first permanent home was at DeKalb Memorial Stadium in Clarkston until 2006 when the Silverbacks opened their own soccer-specific stadium within the county, holding up to 7,500 attendees in capacity.
"It feels good to play professionally at home," said Silverbacks forward and Atlanta-native Jahbari Willis. "I've been supporting the team since the Memorial Stadium days and the fans have always been loyal to our team. I started my pro career with the Silverbacks and when I'm done I want to come back here because the club did much for me as a youth player."
After a two-season hiatus from 2009 to 2010, the Silverbacks returned to active play with a new ownership group, new league and the assistance of Wynalda, a three-time World Cup participant for the United States Men's National Team and television broadcaster, as the team's Technical Director.
"Eric has established who he wanted to play here and those players have had a great impact on the team," said Haynes, who speaks with Wynalda daily about the players' development. "His enthusiasm and charisma about the game have been tremendous assets for me."
In their last contest, the Silverbacks were eliminated from the Lamar Hunt U.S Open Cup, the oldest national soccer competition in the United States, by Real Salt Lake of MLS, 3-2, on May 28 in Salt Lake City, Utah.
"We're not only good enough to compete with an MLS team, but can win one of those games," said Haynes. "It made our guys realize that they can play at the next level. It was a good showing for our boys."
Atlanta players know that the next league games will determine the fate of the season. "We have to continue to win and work hard," said Willis. "Hard work will lead to foundation and then focusing on the little things because they play a big part in the big picture. Everyone is hungry to win and prove something as an organization."
The Silverbacks' next contest will be in Ft. Lauderdale, Fla., against the FTL Strikers on Saturday before they return home on June 22 against the Tampa Bay Rowdies. The spring season will conclude on July 4 at Minnesota United.
Read more: Neighbor Newspapers – Atlanta Silverbacks driving towards league title